Okay, I admit it. I went AWOL. I completely bailed on my newsletter for not one, not two, but THREE whole weeks, which was naughty of me. Do I feel like I have good excuses? Sure thing! Do they matter? Not one bit.
But, for the sake of emphasis, let me share my excuse with you:
"I was doing important things."
The irony is that, for me, "important things" = actively working with clients to develop goal-driven, sustainable strategies. Talk about the pot calling the kettle black. (I'm not making myself look very good in this article, am I?)
So let's talk truths: business building is work. And I know first hand how easy it is to feel overwhelmed by the demands of professional life. You'll get no self-righteousness from me. But I also have seen, up close and in practice, the life-changing benefits of good habits and time management. And since it seems I could use a reminder myself, this week, let's break down a few habits that will help you avoid, and come back from, losing the plot.
Proper Prior Planning…
Surrounded by former military men, I've grown up with the 7P's, adherence to which would have saved my ass these past three weeks. Here is my corollary list, and my "notes to self" as examples:
1. Plan. Know what's coming. "I knew I was going to Europe."
2. Prepare. Ensure you're ready for what's ahead. "I could have pre-written three newsletters."
3. Cover your ass. We all know things go wrong, and we should make allowances. "I should write some extra newsletter for when I run out of time."
4. Own up. Sometimes, shit just doesn't go as planned. Skip the excuses and own your mistakes. "I goofed. I said I'd be there every Sunday morning, but I wasn't."
5. Move on. Don't let these moments become the never-written "thank you" note. Embrace self-compassion, pull your socks up, and keep going. "It's time to get back on track!"
Sorting the Mental Clutter
Here in New Zealand, Oct-Nov-Dec is sheer madness, with Summer and Christmas and EoY all approaching simultaneously. Two weeks away didn't help my feeling of overwhelm. In the spirit of productivity, I spent my 30 hours in transit practicing what I preach – I sat down with a handout that I use frequently with clients (I know at least two of you have seen this in the past two weeks!).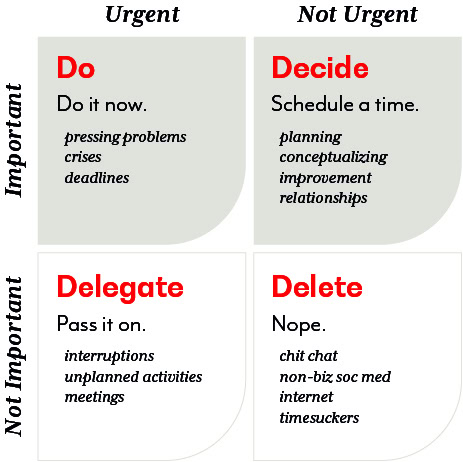 The Eisenhower Matrix
When life goes haywire, it's easy to lose focus of how best to use our time. I see a lot of clients spending too much time in the Urgent-Impt quadrant (I can be just as bad about it as anyone), and not give enough time to the Impt-Not Urgent work. As good business builders, that's where we SHOULD be spending our time: being proactive and productive. If you can learn to Do, Decide, Delegate, and Delete, you will gift yourself with time to be an effective leader.
It's December, and life is crazy for everyone. Learn from my mistakes and be better prepared for what's to come. Here's a copy of the matrix for your office. Download it, print it, and tack it to the wall. When Boxing Day rolls around, gift yourself (and your business) "time to grow." Grab your 2019 agenda, and book out a few hours per week when you can Plan, Prepare, and Produce for a more profitable 2019.
Thanks for sticking with me.