Greetings, fellow wine enthusiasts! As a wine marketing agency that loves to innovate, we've been hard at work creating a new tool that will completely change the way you create your reservation property maps. Today, we're thrilled to announce the launch of our easy-to-use, visual Reservation Property Maps tool for Commerce7.
With this tool, you'll be able to create and customize your tasting room's table maps without the need for a developer. So, pour yourself a glass of your favorite wine, and let's dive into the details of this fantastic new tool!
Why Our Reservation Property Maps Tool is Needed
In the world of winery reservations, a seamless and efficient booking experience is key to maximizing customer satisfaction. So why not carry that experience over for you and your staff? Property maps play a crucial role in the reservation and POS management process, as they help staff visualize seating arrangements and ensure a smooth visit.
However, creating these maps on the Commerce7 platform has traditionally been a cumbersome process involving JSON arrays, developers, and a lot of time and effort.
That's where our new Reservation Property Maps tool comes in. We've developed an all-visual, user-friendly solution that allows wineries to take control of their property maps without breaking a sweat (or the bank).
How It Works: A Simple and Intuitive Process
With our new tool, creating and customizing your property maps has never been easier. Here's how it works:
Upload Your Image: Start by uploading an image of your seating map to our platform. Commerce7 recommends a 1200 pixel wide by 600 pixel tall image, so we've stuck with that.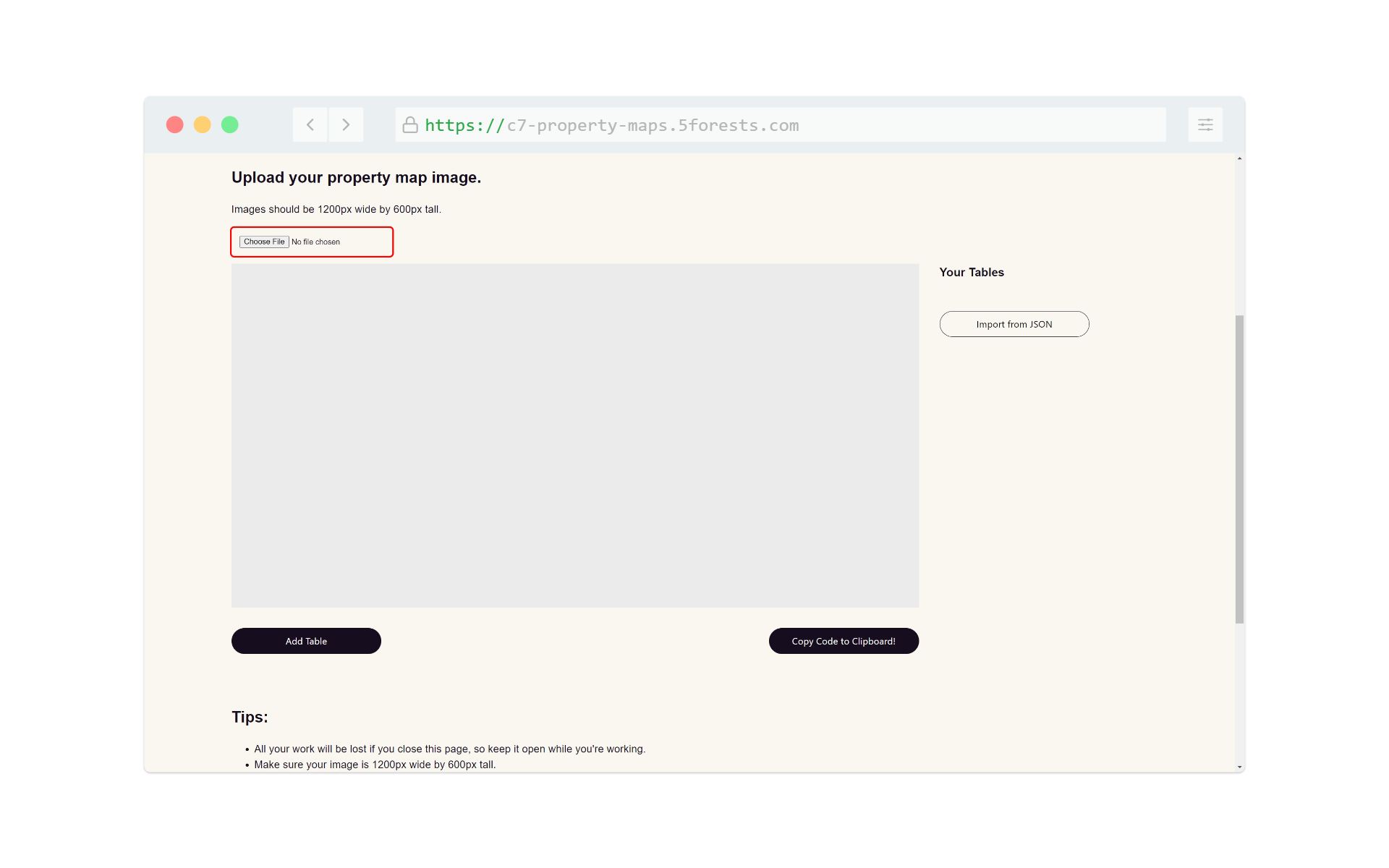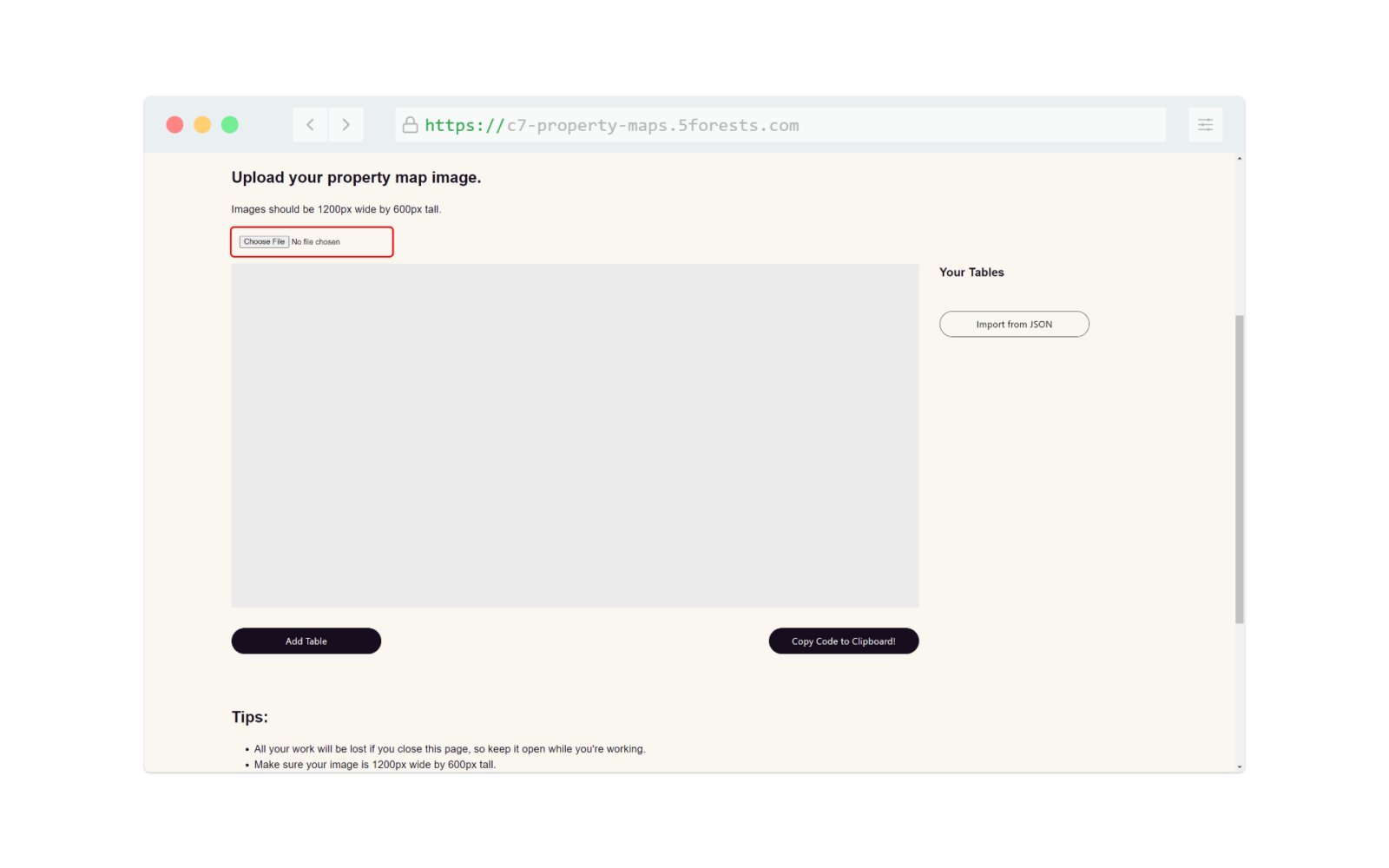 Add Tables: Use the handy "Add Table" button to add tables to the map, and drag them to their desired positions.
Edit Tables: Customize the titles and codes of your tables to match your winery's unique layout and branding. You will find a corresponding block in the right column that is labelled with a marker number matching the table you added to your image. Codes are used by Commerce7, Titles are shown to your staff on the property map view. Keep them short!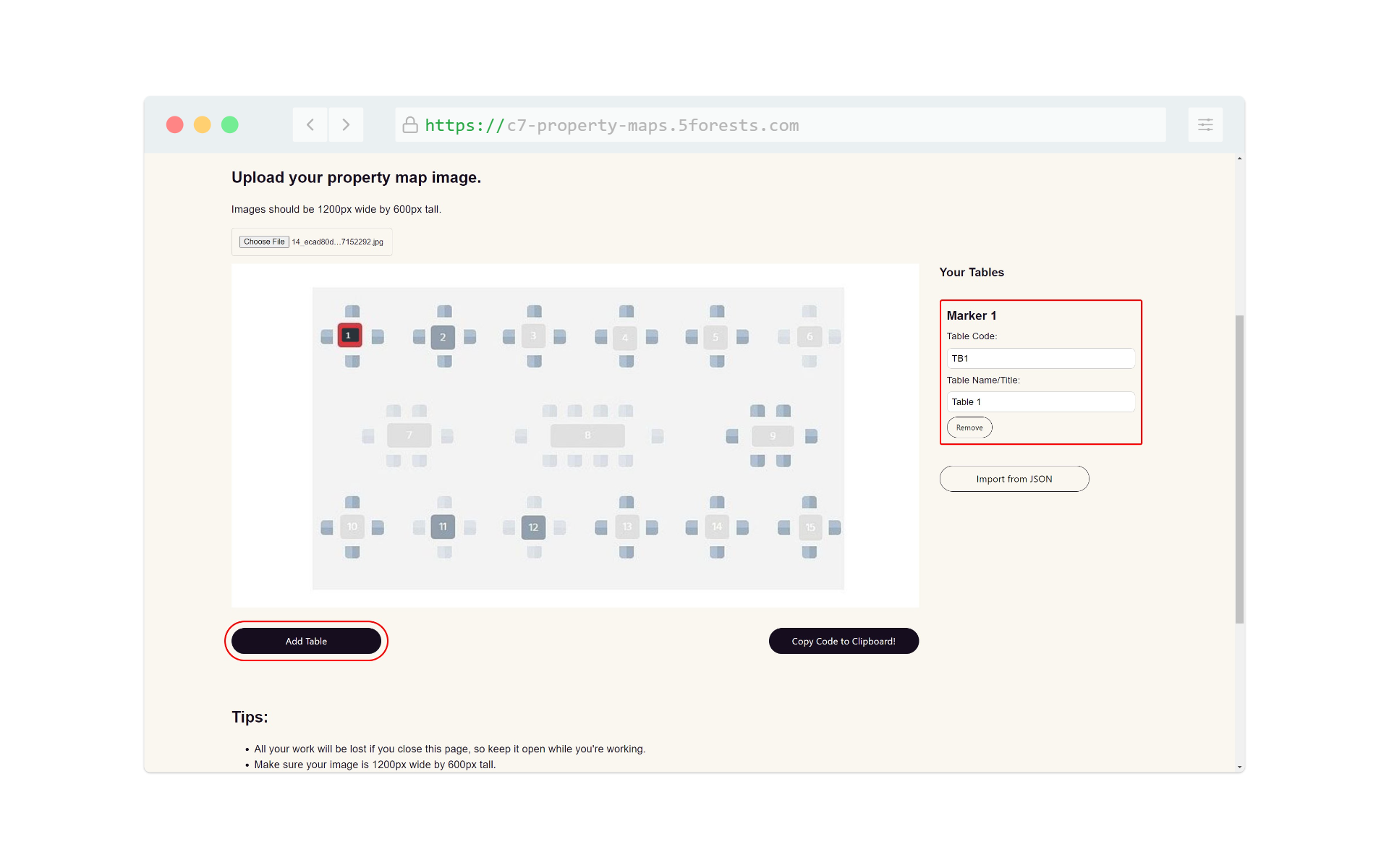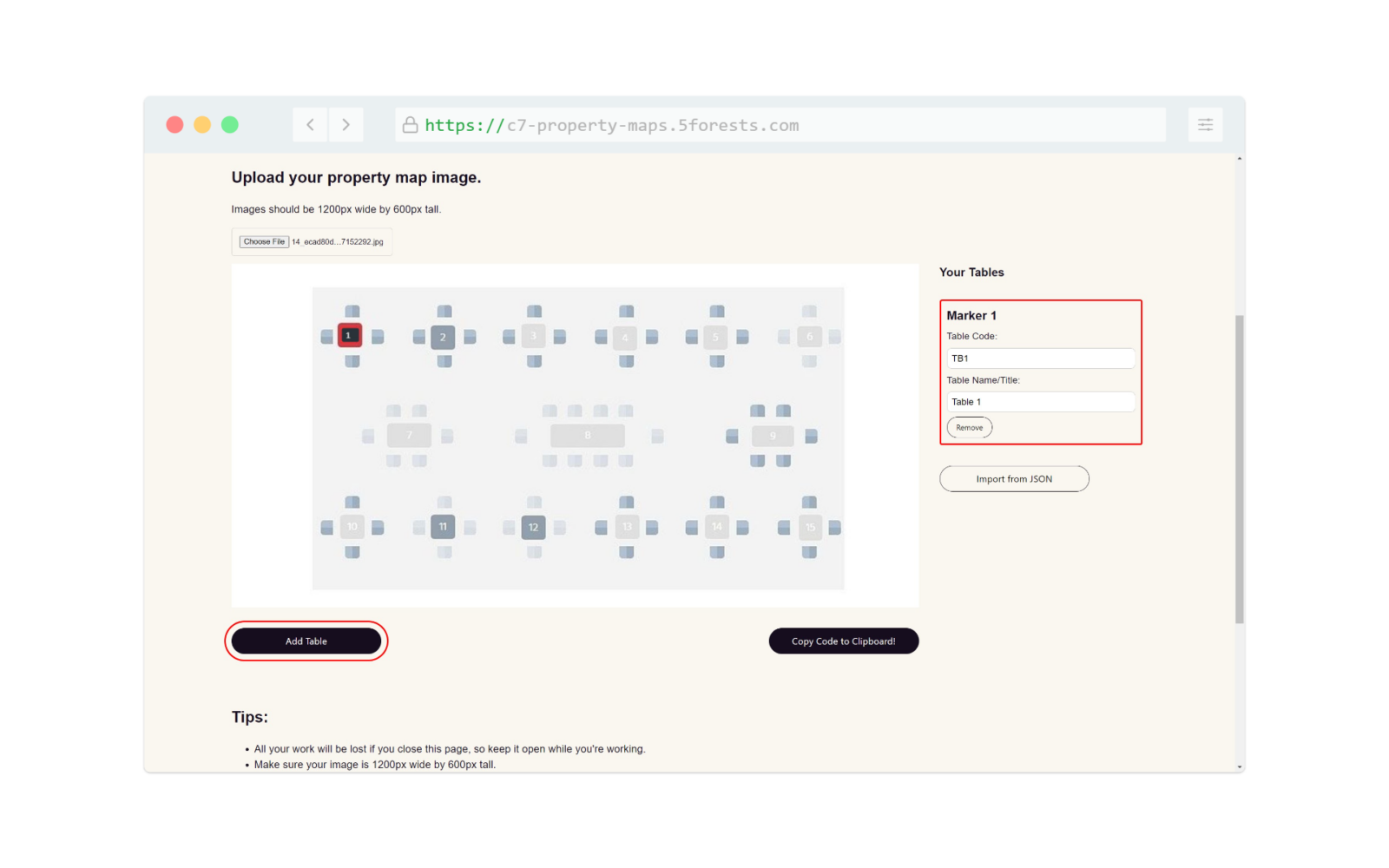 Export your JSON data for Commerce7: When complete, press the handy "Copy Code to Clipboard" button, and paste it into Commerce7.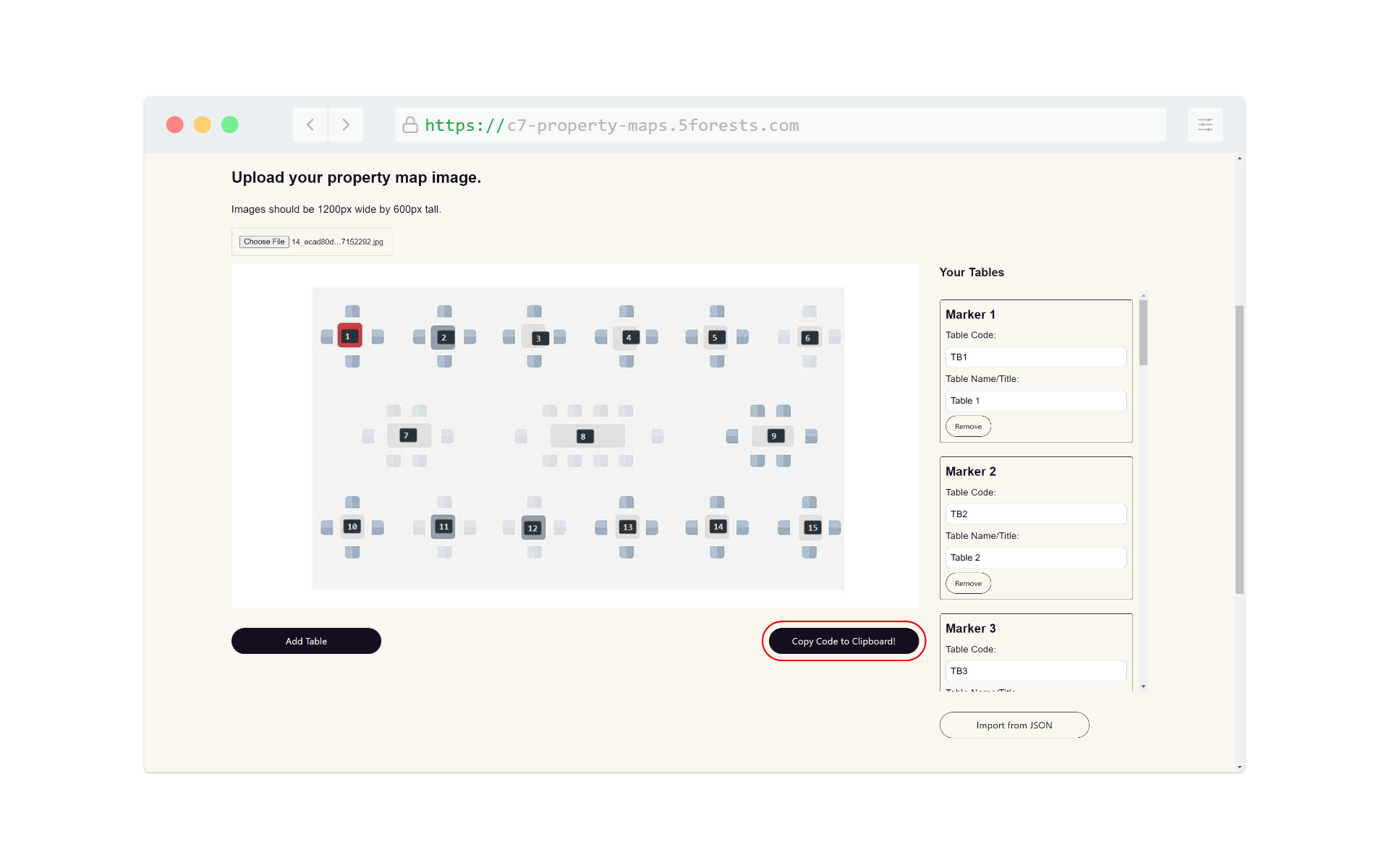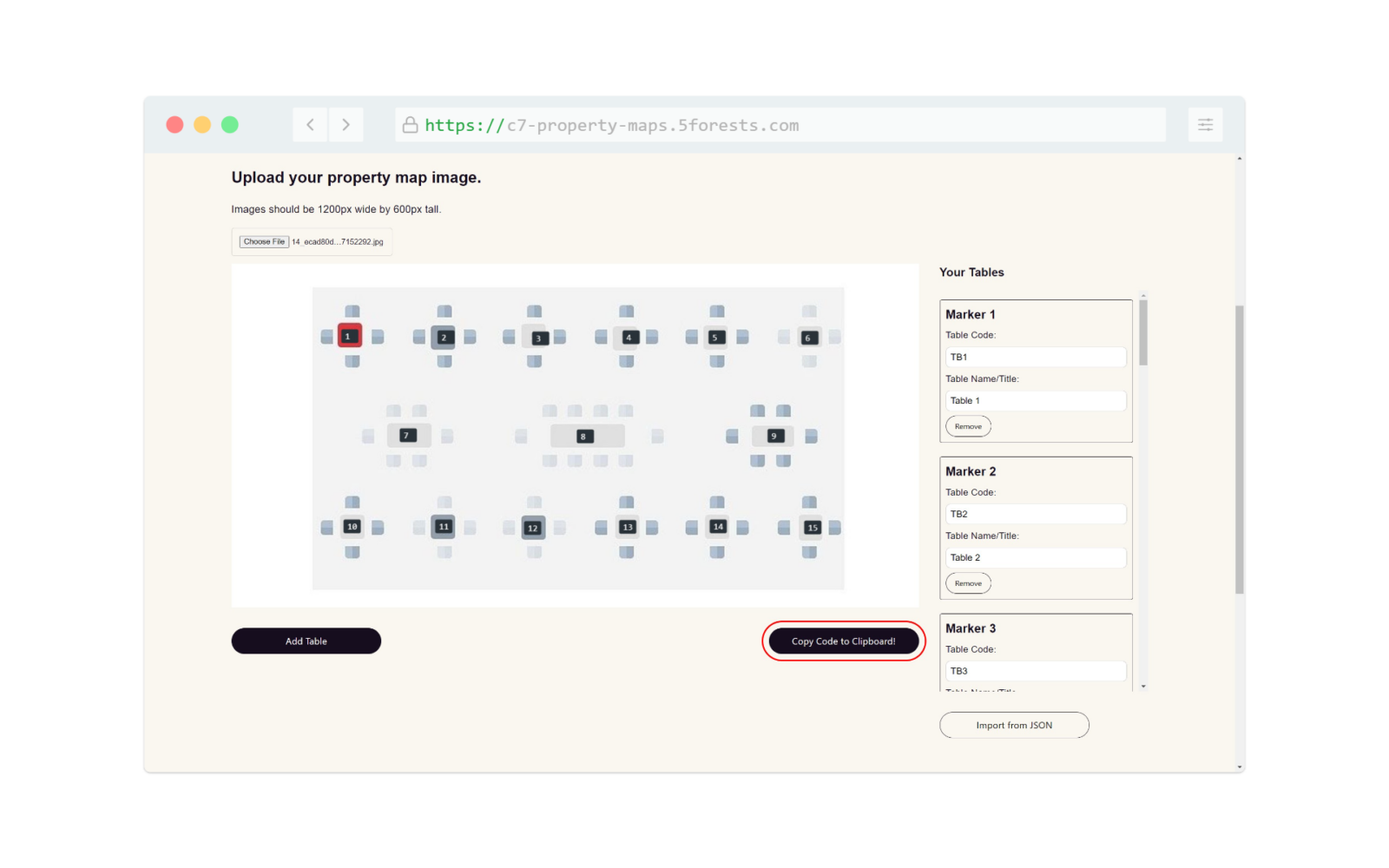 Tweak as needed: Make adjustments to your map as needed by repositioning or removing tables with just a few clicks. Recopy the code, and test in Commerce7.
Who This Tool Is For
Our Reservation Property Maps tool is designed for wineries using the Commerce7 platform who want to create and manage their property maps without the need to hire a developer. Whether you're a small, family-owned winery or a larger, well-established business, our tool will help you streamline your reservation process and create a more enjoyable experience for your customers.
Why the heck did we make this?
At 5forests, we're passionate about helping wineries succeed. By offering our Reservation Property Maps tool for free, we're demonstrating our commitment to supporting the wine industry and helping wineries of all sizes improve their reservation experience. Wineries may also be interested in our free Commerce7 website templates or our Commerce7 for WordPress plugin.
Looking for wine marketing?
In addition to our new property maps tool, we offer a wide range of marketing services tailored to the unique needs of the wine industry. From web design and content creation to SEO and social media marketing, we've got you covered. Looking for a real return? Contact us today or learn more about our enhanced Commerce7 websites that can propel your winery into the next level.