Facebook Conversion Tracking Instructions
Congratulations on taking the first step to better ads reporting, better conversion tracking, and better performing ads! This app can be installed directly in the Commerce7 app store, just select the "Facebook Conversion Tracking" app by Treefrog Digital and 5forests. But before you start, you'll need to make sure your Facebook account is ready to go.
Our app allows you to retain full administrative control over your accounts, and these setup instructions will walk you through areas of the Facebook Business Manager that all business owners and media teams should be familiar with. Please allow yourself 20 minutes to complete these steps.
Facebook Business Manager Setup
Create a Business Manager Account
You will need a Facebook Business Manager account in order to use this app. Even without this app, we always recommend using the business manager to handle your advertising on Facebook.
Here is a handy guide to getting started with Facebook Business Manager: https://sproutsocial.com/insights/facebook-business-manager/
This step is the longest if you don't already have an account. Follow the setup link above and take your time, this will be the backbone of your entire Facebook marketing and management system!
Create a Facebook Ad Account
Once you have a business manager account set up, you will also need an Ad Account with a valid payment method and a Facebook Pixel attached to that ad account. The link above goes over how to set those up.
Make sure you have a valid payment method connected to the ad account.
Note: if you are a marketing agency installing this app on behalf of a client, please ensure the Dataset (or Pixel and Offline Event Set, Developer App, and System User) are created in the clients Business Manager account and not your own. If you are using an ad account in your own business manager, ensure the client is added as a Partner and the ad account shared with them so you can connect the next assets properly. This is not optional.
Event Tracking Setup
Note: new for 2023, Facebook is rolling out what they call a "Dataset". This dataset is a combination of all tracking channels, such as your website events and your offline events. These will completely replace the old Pixel and Offline Event Sets. If you currently use a Pixel + Offline event set, but have the ability to now create a dataset, we recommend doing so. You only need one Dataset in your account.
To find out if your account has Dataset support, head back into Business Settings > Data Sources > Datasets.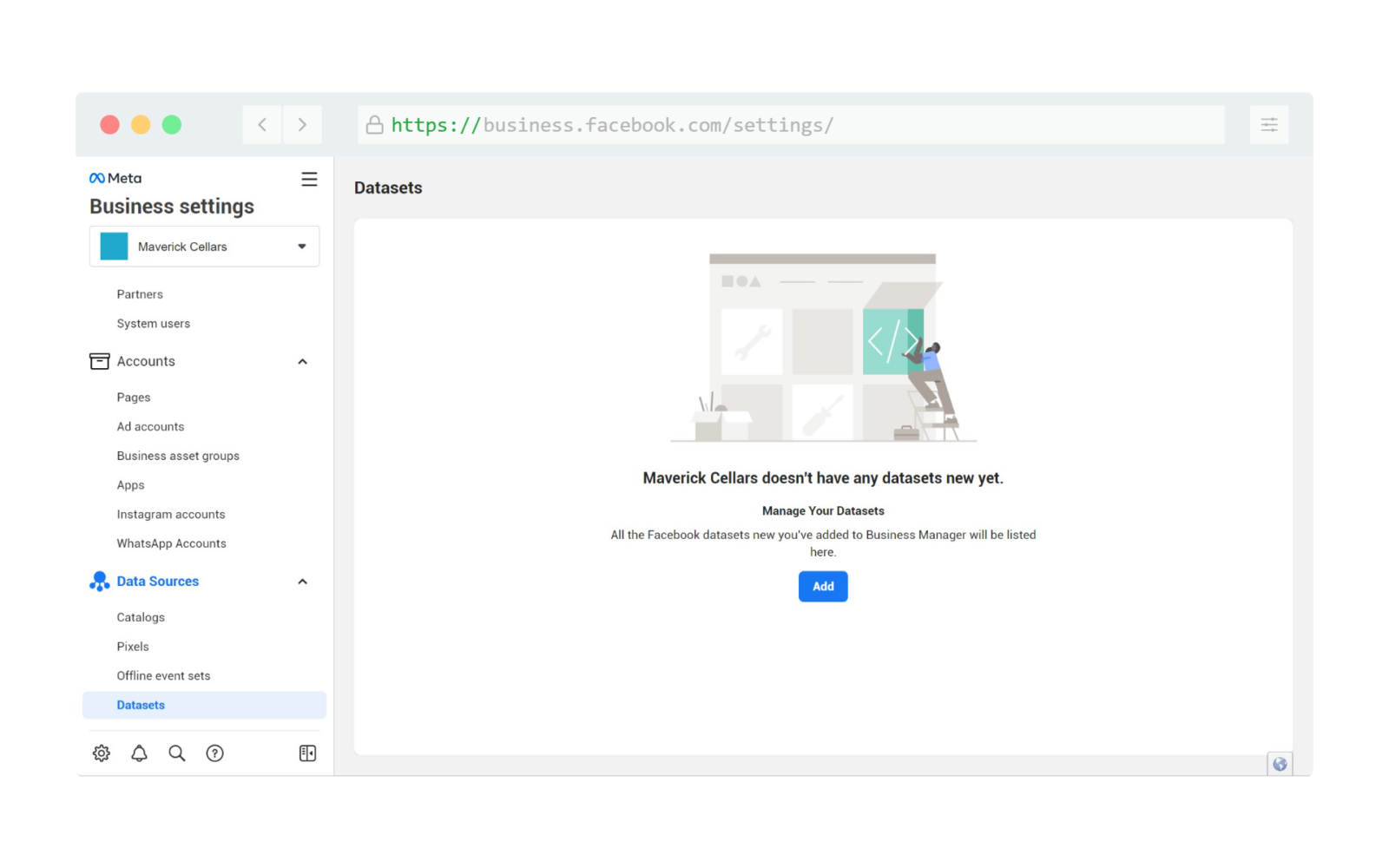 If you see the blue Add button as above, and you're able to click it and create a dataset, please follow the next series of steps.
In some cases this feature is not available in your business Settings, but it is available in your Events Manager. Head there and look for one of two things:
First, look for an existing dataset, indicated by the symbol that looks like a network of bubbles instead of the old symbol of a laptop. In many cases your existing Pixel was updated to be a dataset.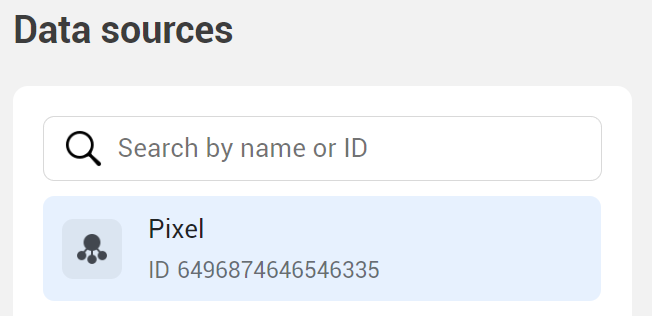 If that does not exist, look to the left for a green circle with a plus sign symbol in it. Click it to open the "Connect a New Data Source" modal, and see if "Offline" is available or greyed out. If it's available, click that and create a new source. Don't worry, you can add online events to this as well!
If you do not have the button in your Settings, or if it's greyed out, or if you're told you're currently unable to create a dataset, or if the above two alternative steps proved fruitless, please skip to the Pixel Setup section.
Facebook Conversion Tracking with a Dataset
From the above screen, click the blue "Add" button and create a new dataset. Name it anything you like.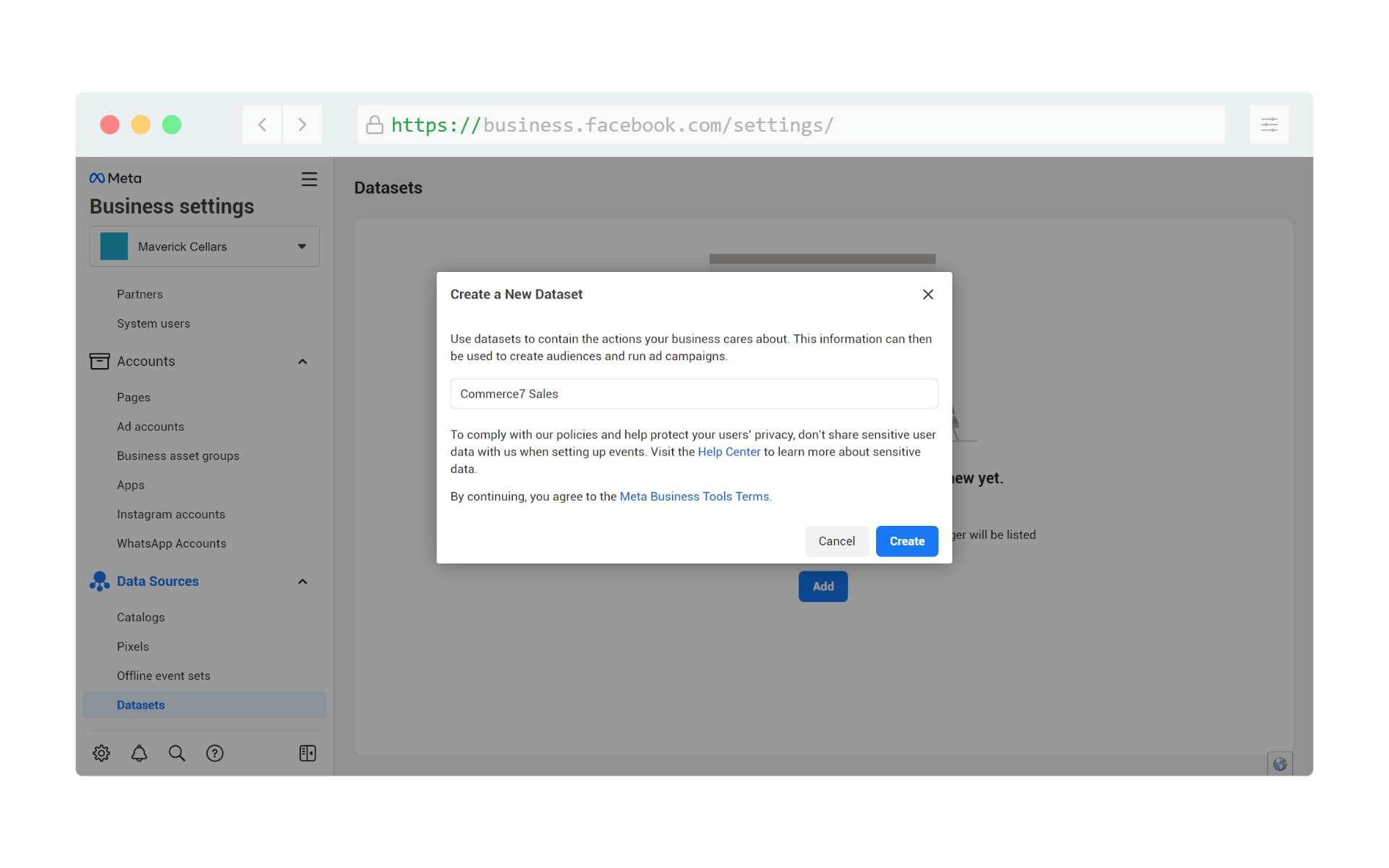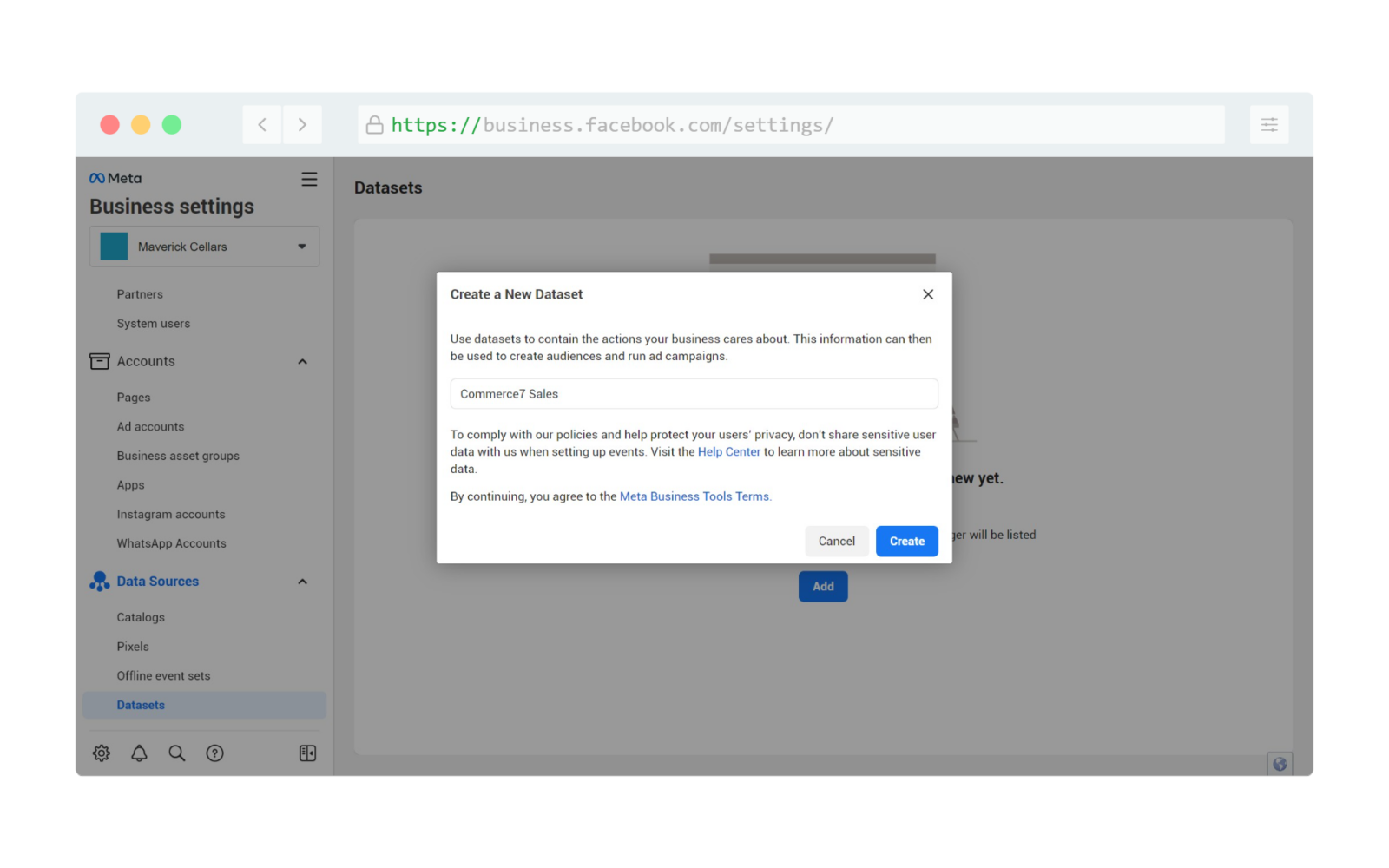 On the following screen, click both the People tab and the Connected Assets tab. Under people, add yourself and anyone who needs access to event tracking and ads. Under assets, connect your ad account.
After that, click the grey "Open in Events Manager" button at the top right of that screen.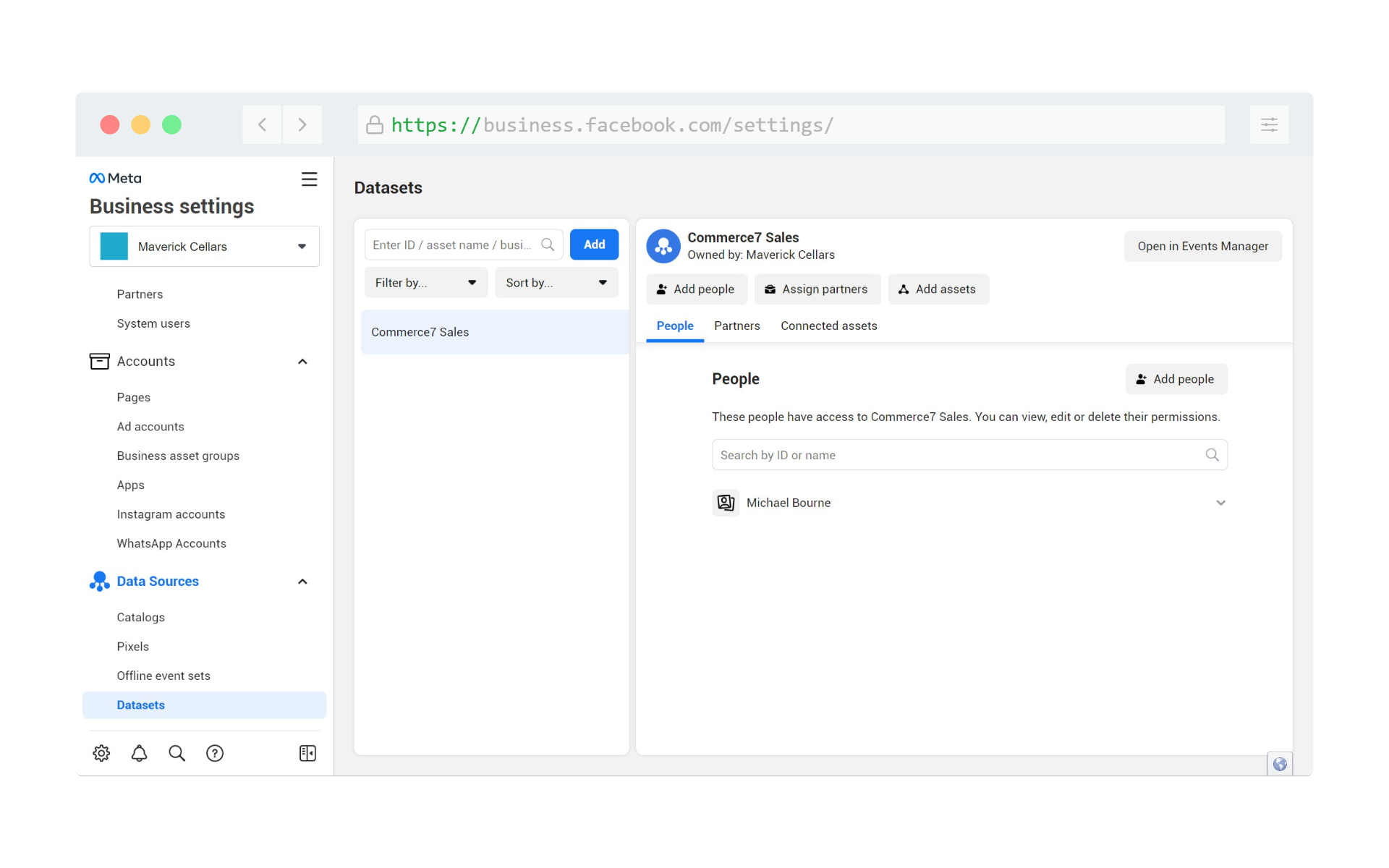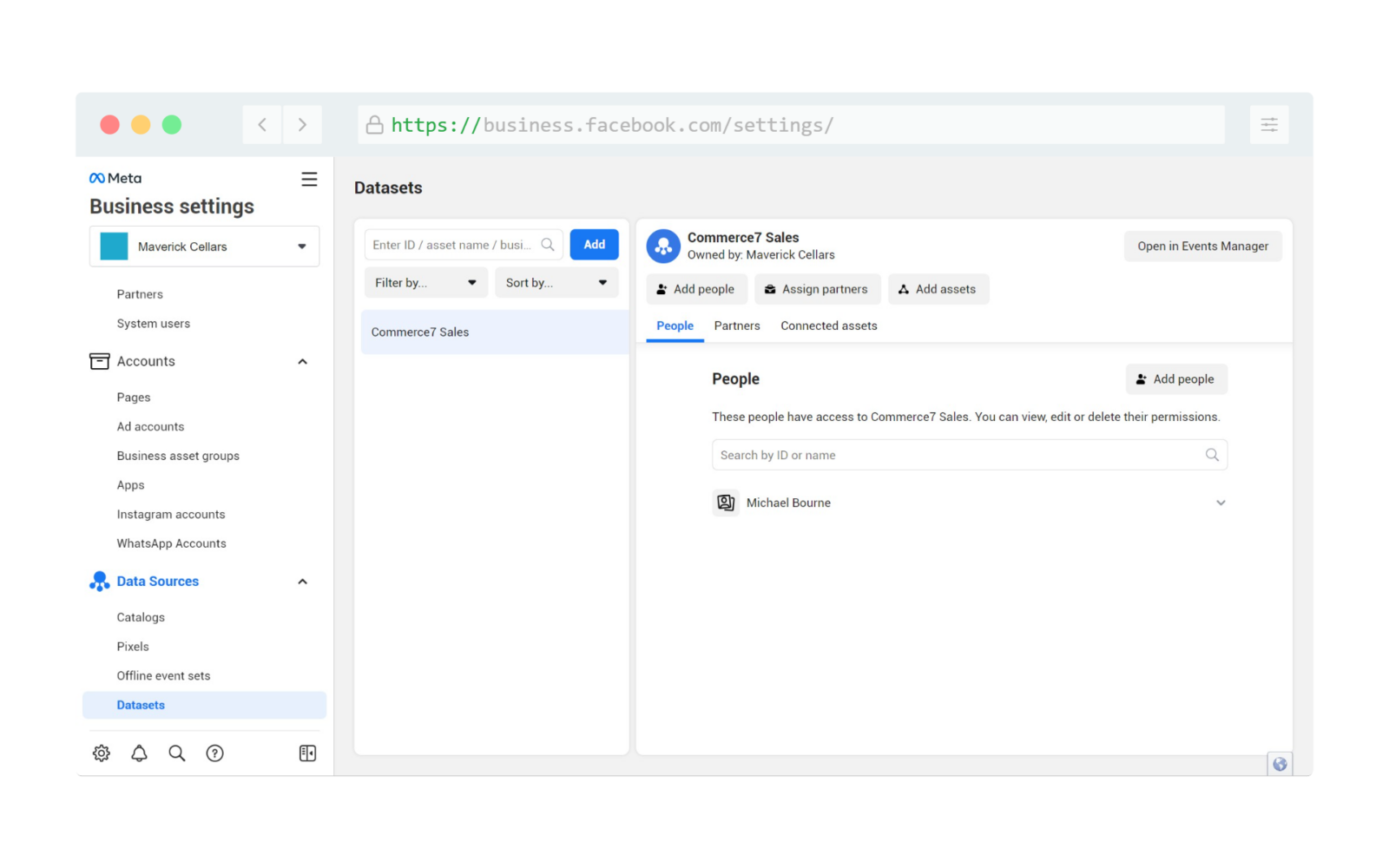 Once you're in the Events Manager screen, head into the Settings tab on your dataset.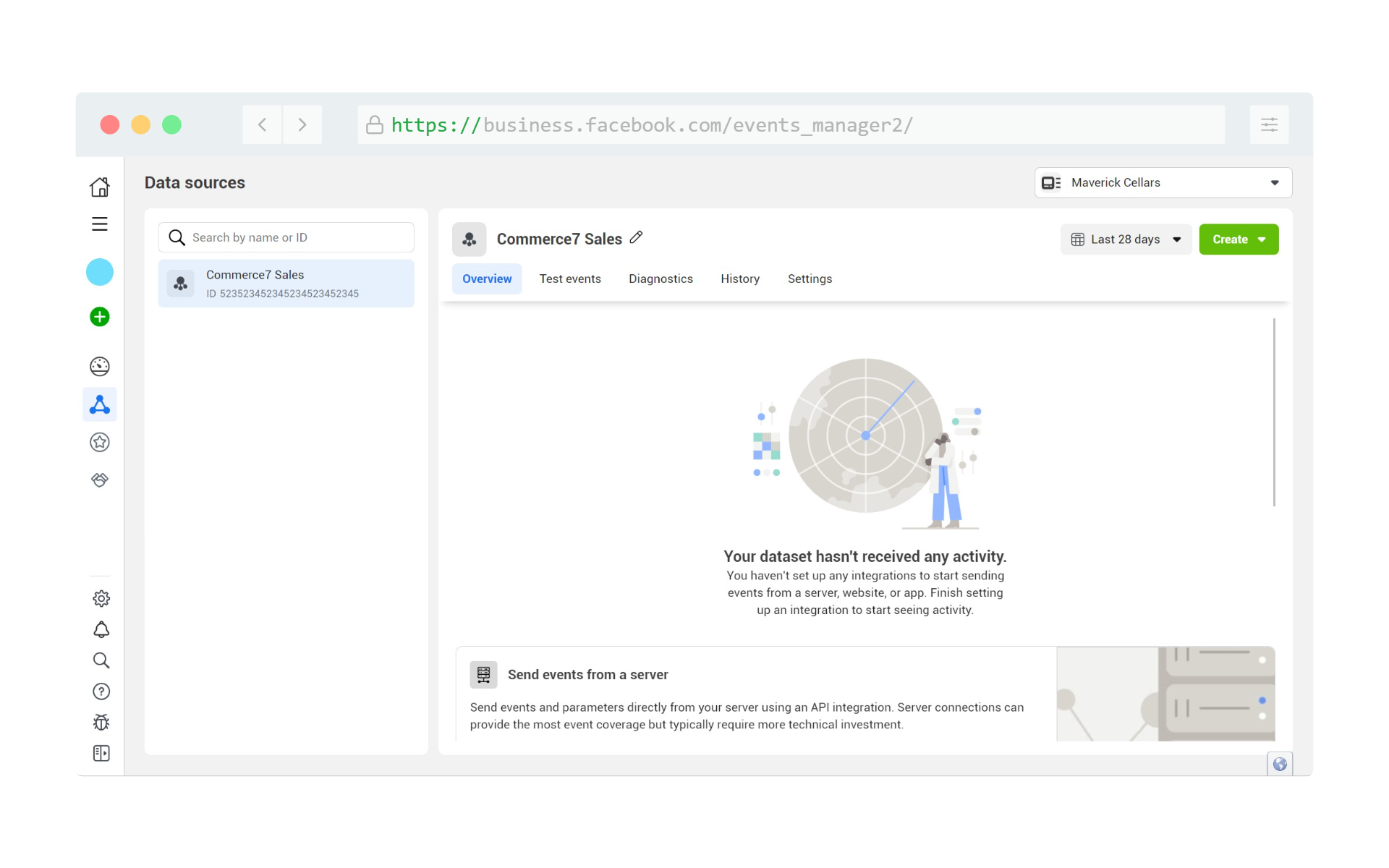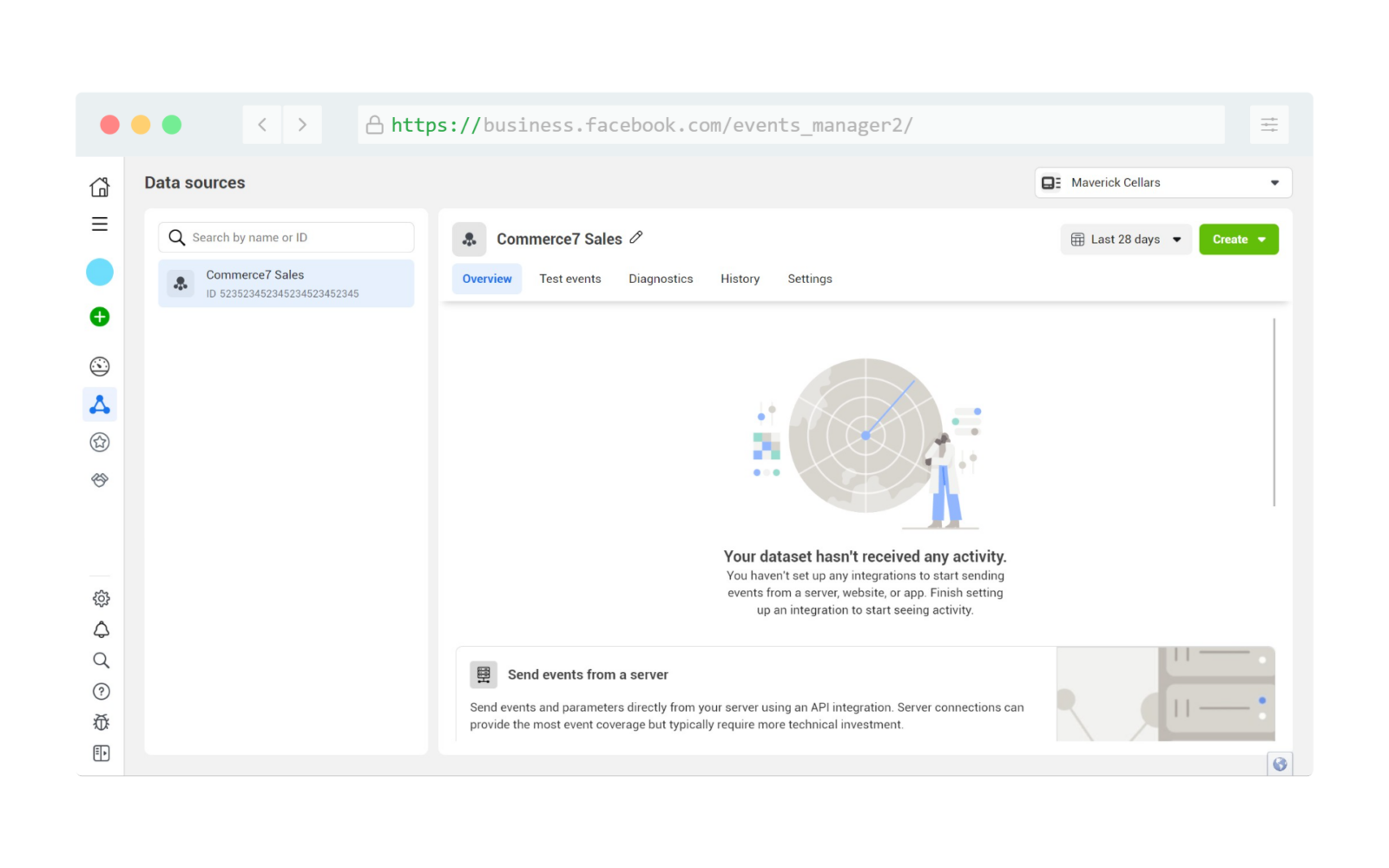 Copy down your Dataset ID, you will need this to setup the Copmmerce7 app!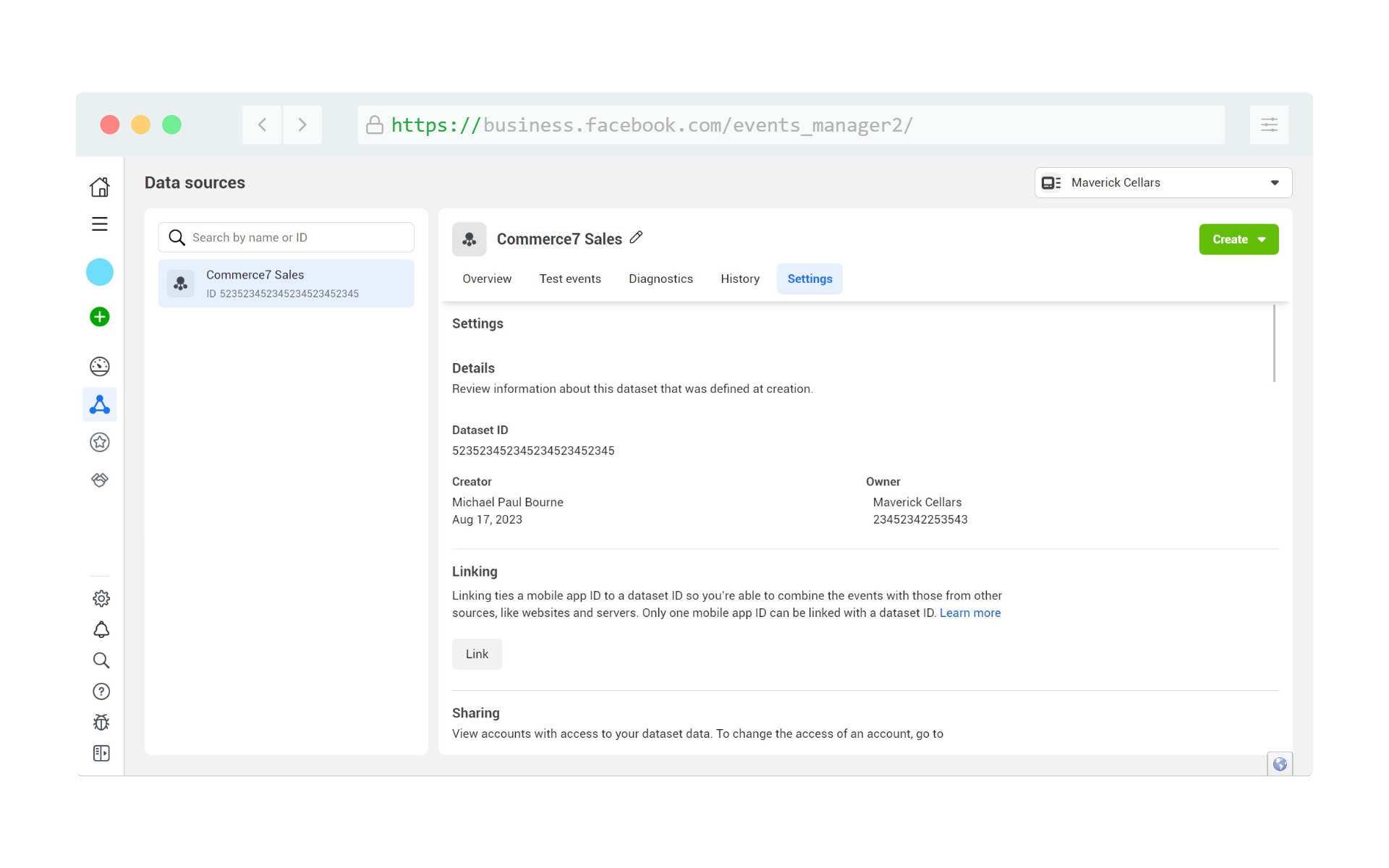 Scroll down this page until you see the link "Generate access token". Click this link and copy the token that appears in a modal, you will need it later!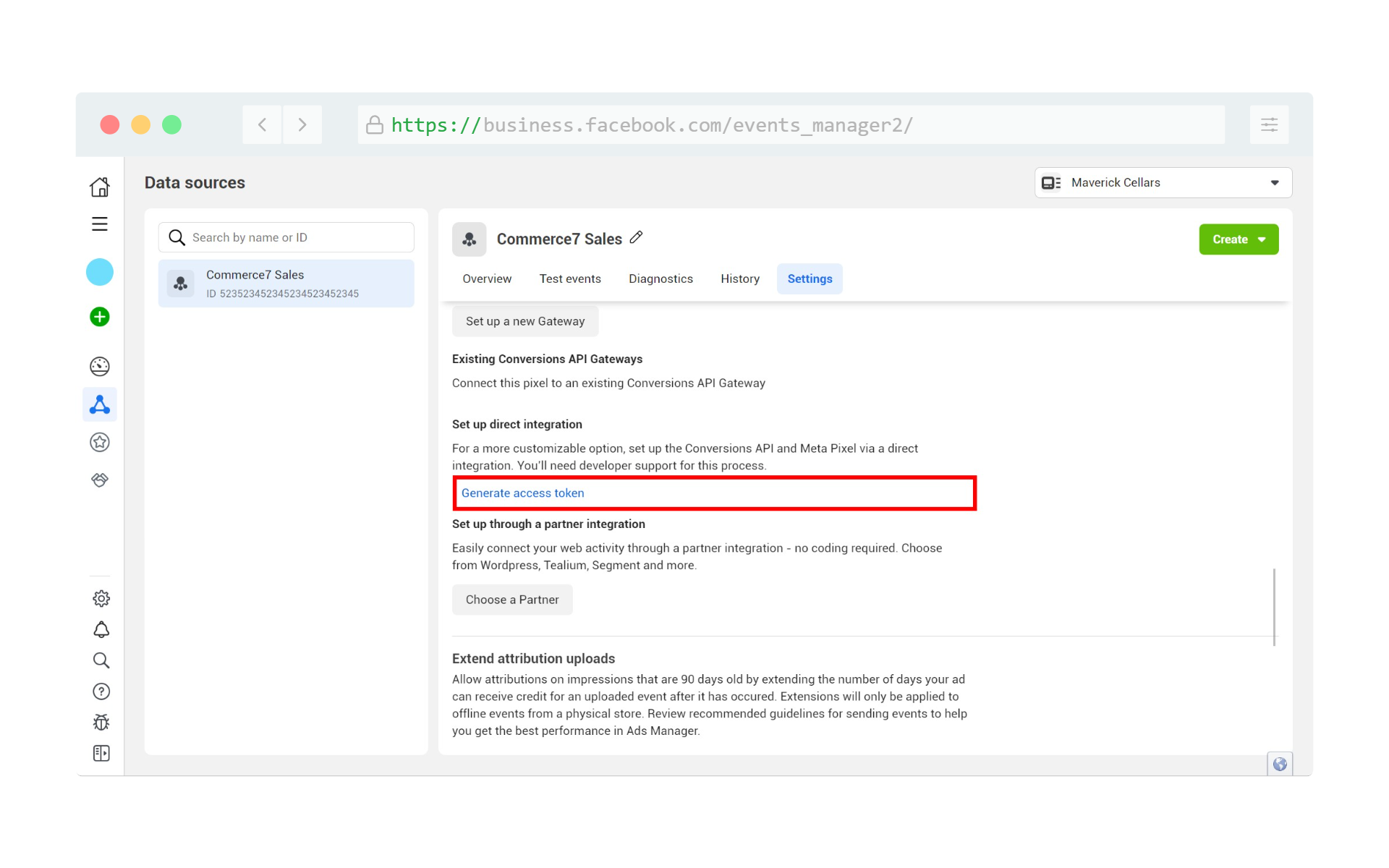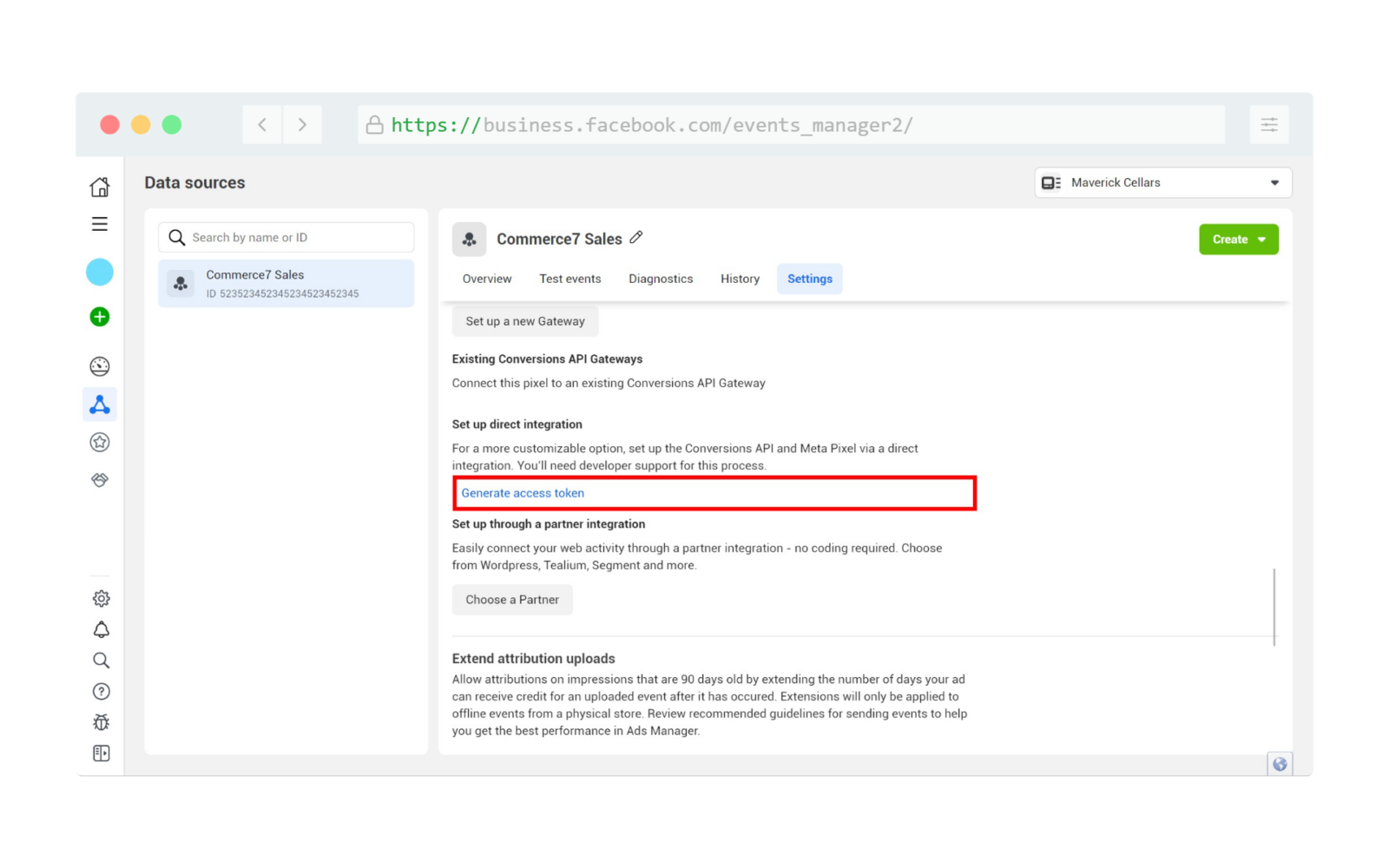 Be sure to add this dataset to your website like you would any normal pixel. You may need some sample events present before seeing this next screen.
Once you have your token, click on the Manage Integrations button in the Overview tab in Events Manager.
In the pop-up screen, click the Manage button next to Conversions API, or click Add New Integration and choose Conversions API. This will automatically create a Conversions API app and Conversions API system user for you. There is no need to go through App Review or request any permissions.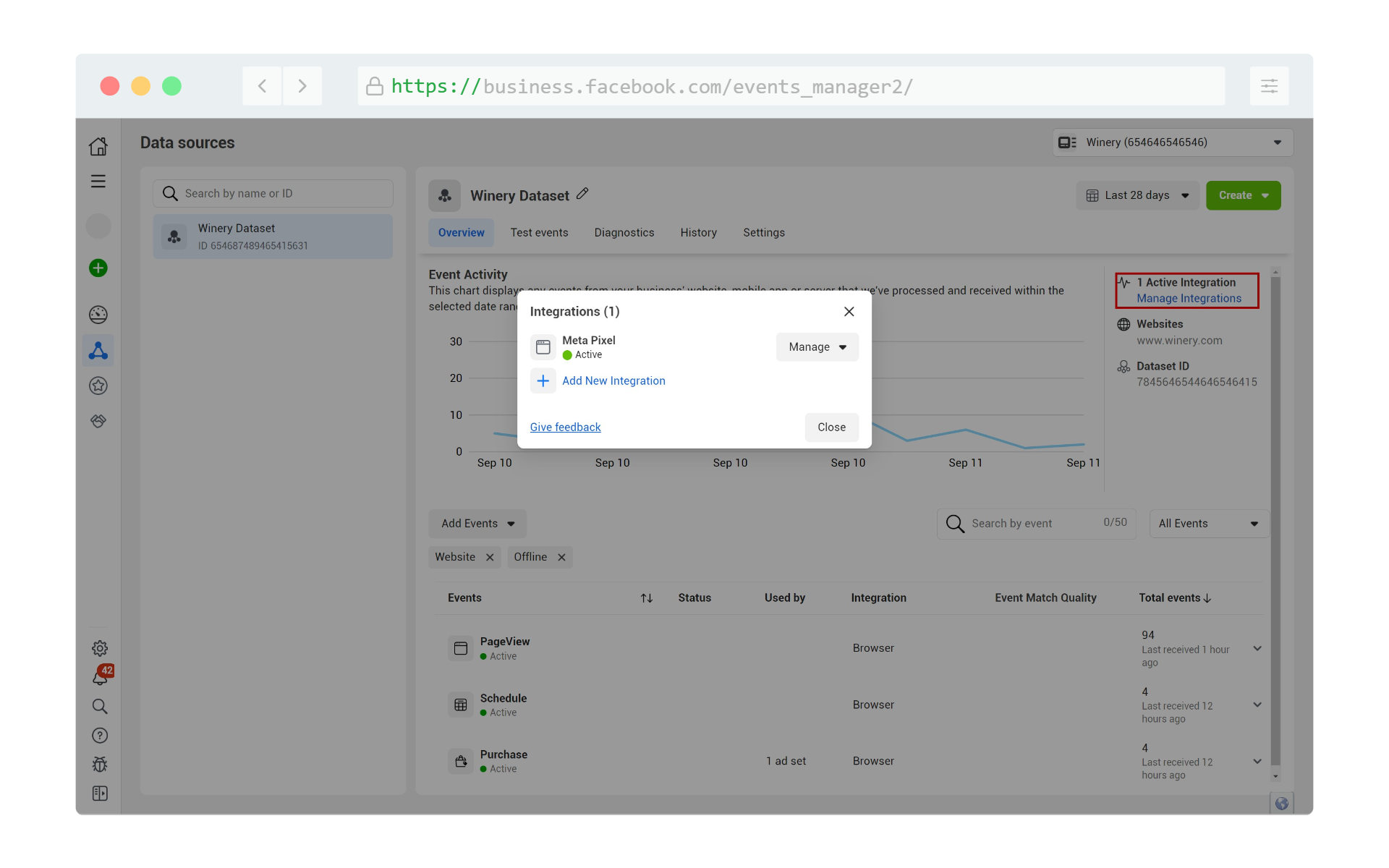 Choose Set Up Manually on the next step. You can then click next through all the remaining pages of this setup guide until you're back at the events manager home screen.
Lastly, we highly recomend going into your Dataset's Settings tab, and enabling both "Extend attribution uploads" and "Allow historical conversion uploads" to account for reservations that happen more than 7 days in advance.
With the Dataset ID and Token safely copied down, please proceed to the Commerce7 App Setup section.
Facebook Conversion Tracking with a Pixel
Note: these steps are only applicable for accounts that do not have access to Datasets. Please ensure you have checked your dataset eligibility before proceeding with this section. If you did the dataset setup, please skip to Commerce7 App Setup.
Create a Facebook Pixel
Setting up a Pixel is an important step in conversion tracking. The link above also covers how to set this up and connect it to your ad account.
In your Facebook Business Manager, go to Business Settings > Users, click your name, click "Add Assets", and ensure you have full control over the ad account like so: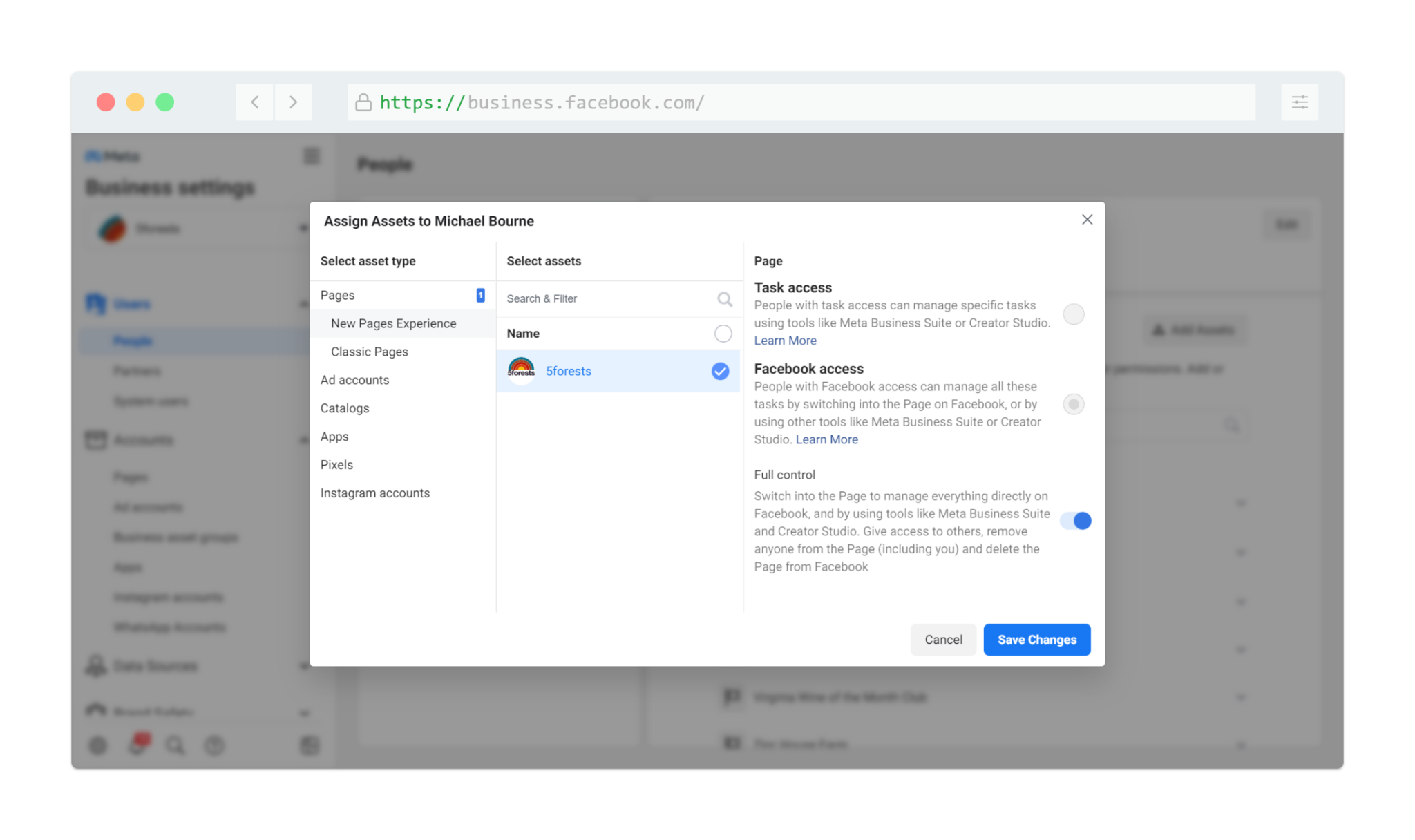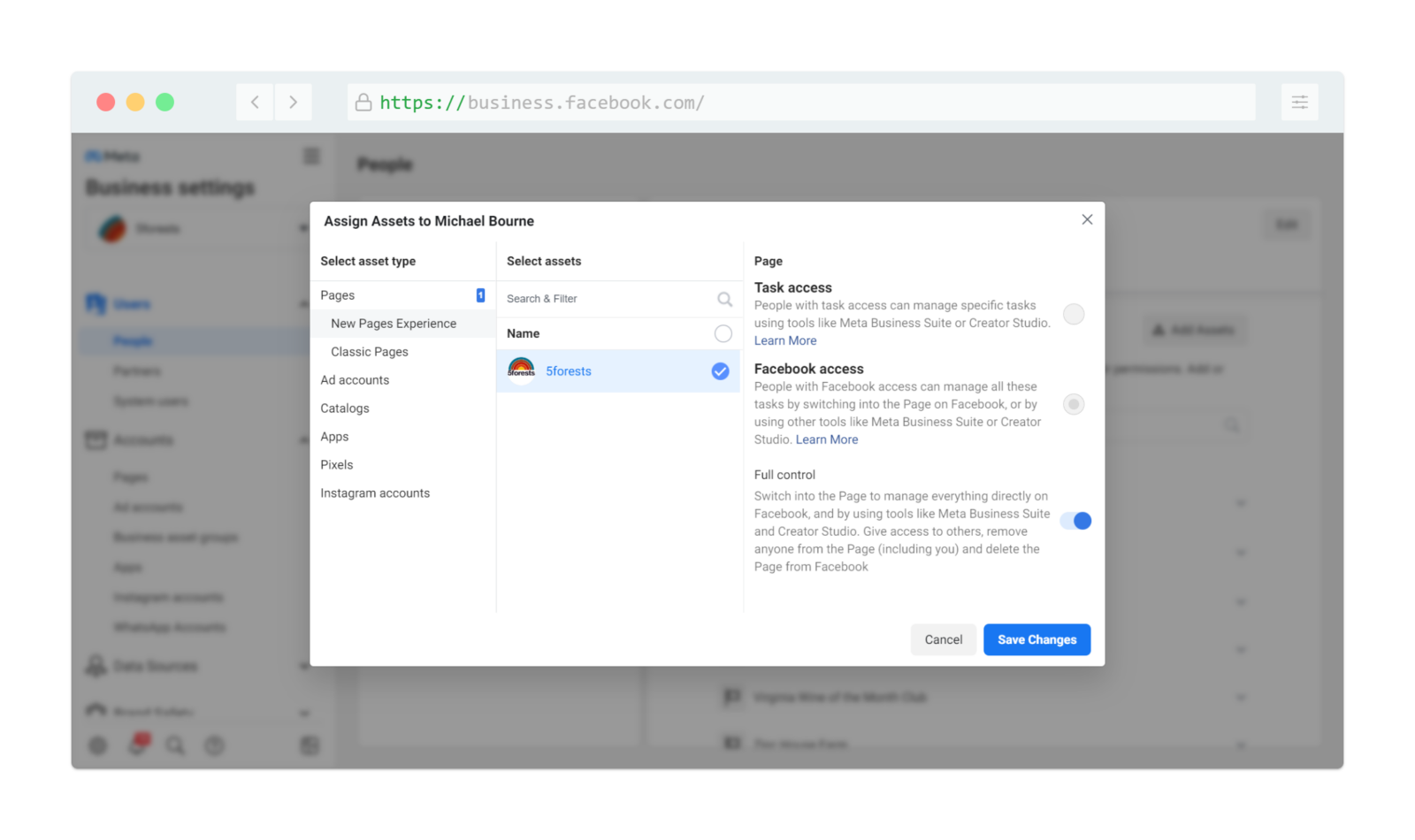 Go through each option in that left column, select all assets (page, ad account, pixel, catalog, etc), and make sure you have all of the toggles on the right column enabled for yourself.
Next, you will need to add your domain to Facebook and verify it. This is an important step for ensuring your conversions are tracked properly, and is a mandatory step since the iOS 14.5 changes.
In your Business manager, scroll down to Brand Safety > Domains, click the blue "Add" button, add your domain, and follow the verification steps.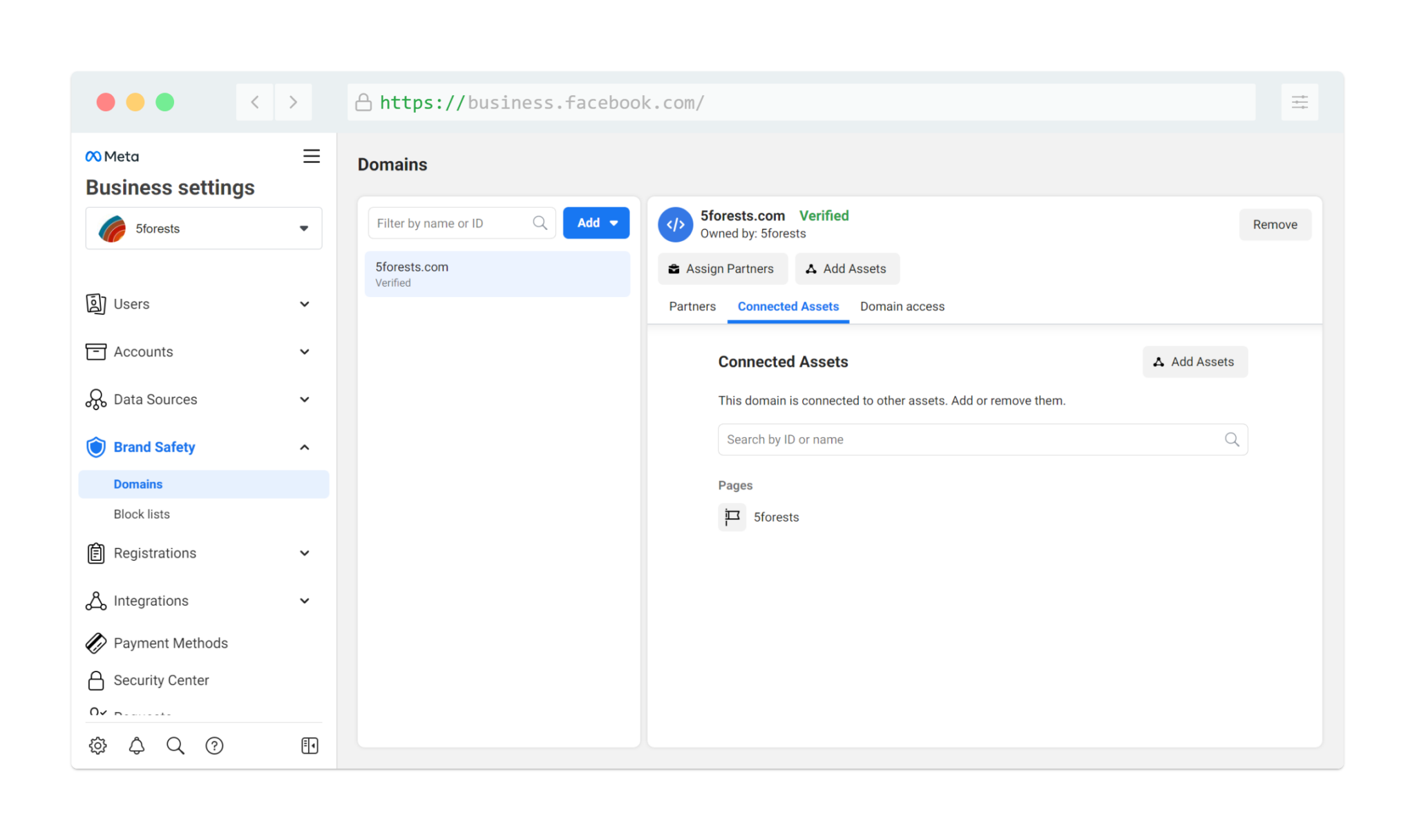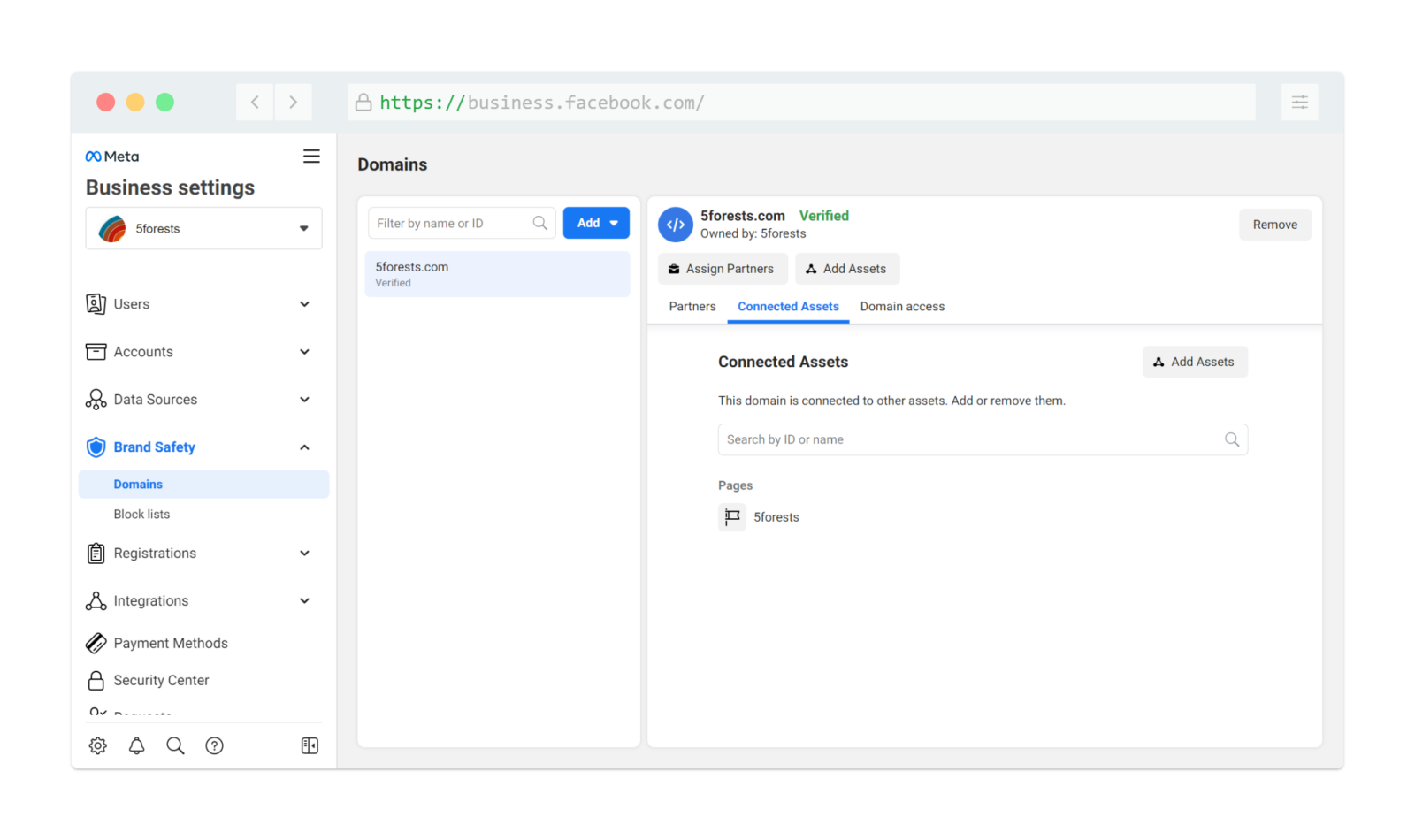 Lastly, and importantly, let's enable Facebook's workaround for iOS tracking blocking. They call it Aggregated Event Measurement. In your Business manager Settings, scroll down to Data Sources > Pixels, select your pixel, and press the "Open in Events Manager" button.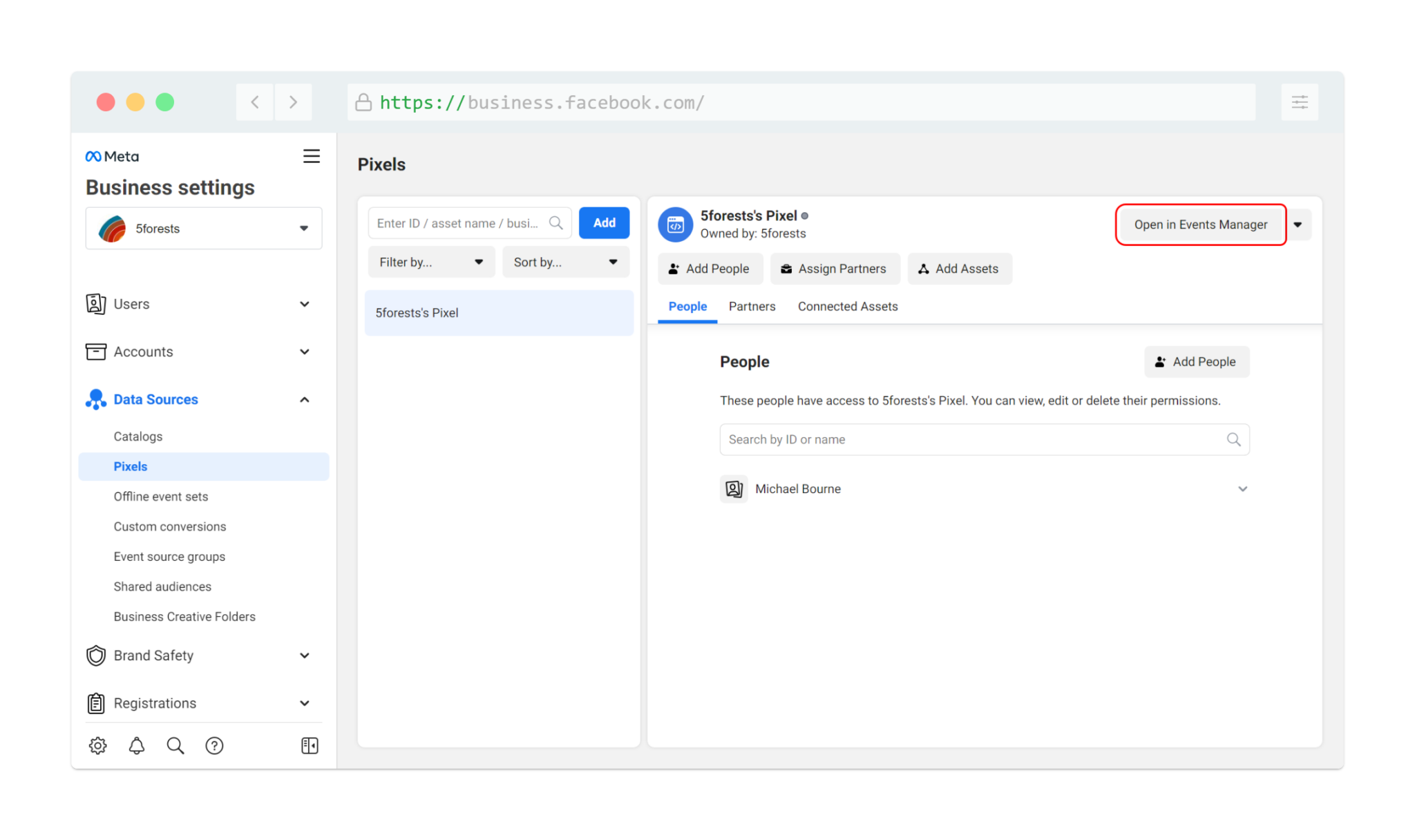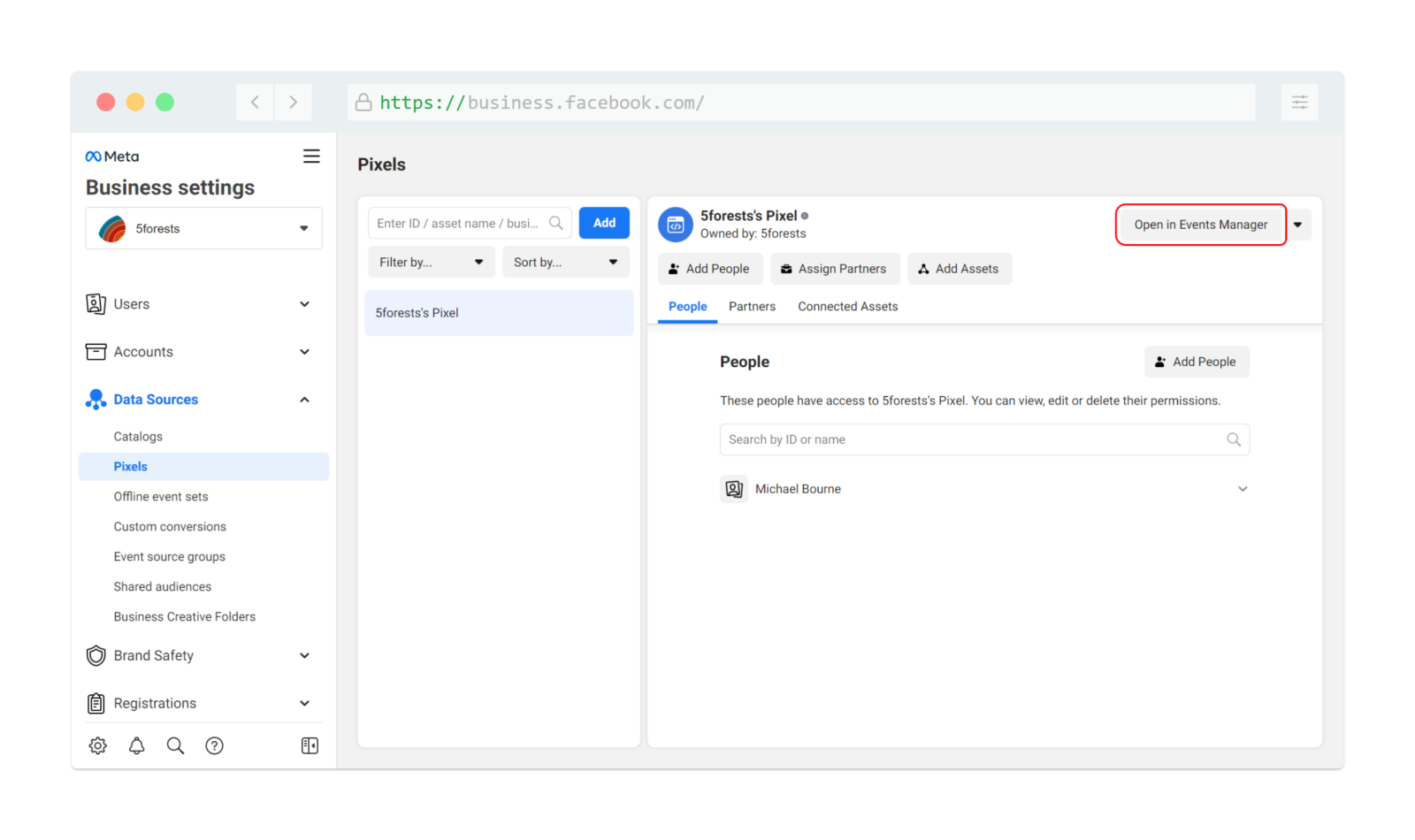 From there, copy your Pixel ID, as seen in the top right corner near the graph. We will need this for the Commece7 app settings.
Create an Offline Event Set
From there, create an Offline Event Set by going to your Business Settings, find "Data Sources" in the left column, and click "Offline Event Sets". The blue "Add" button in center screen is used to create a new set. Press that, give your new offline event set a name (Winery Offline Sales), and create it.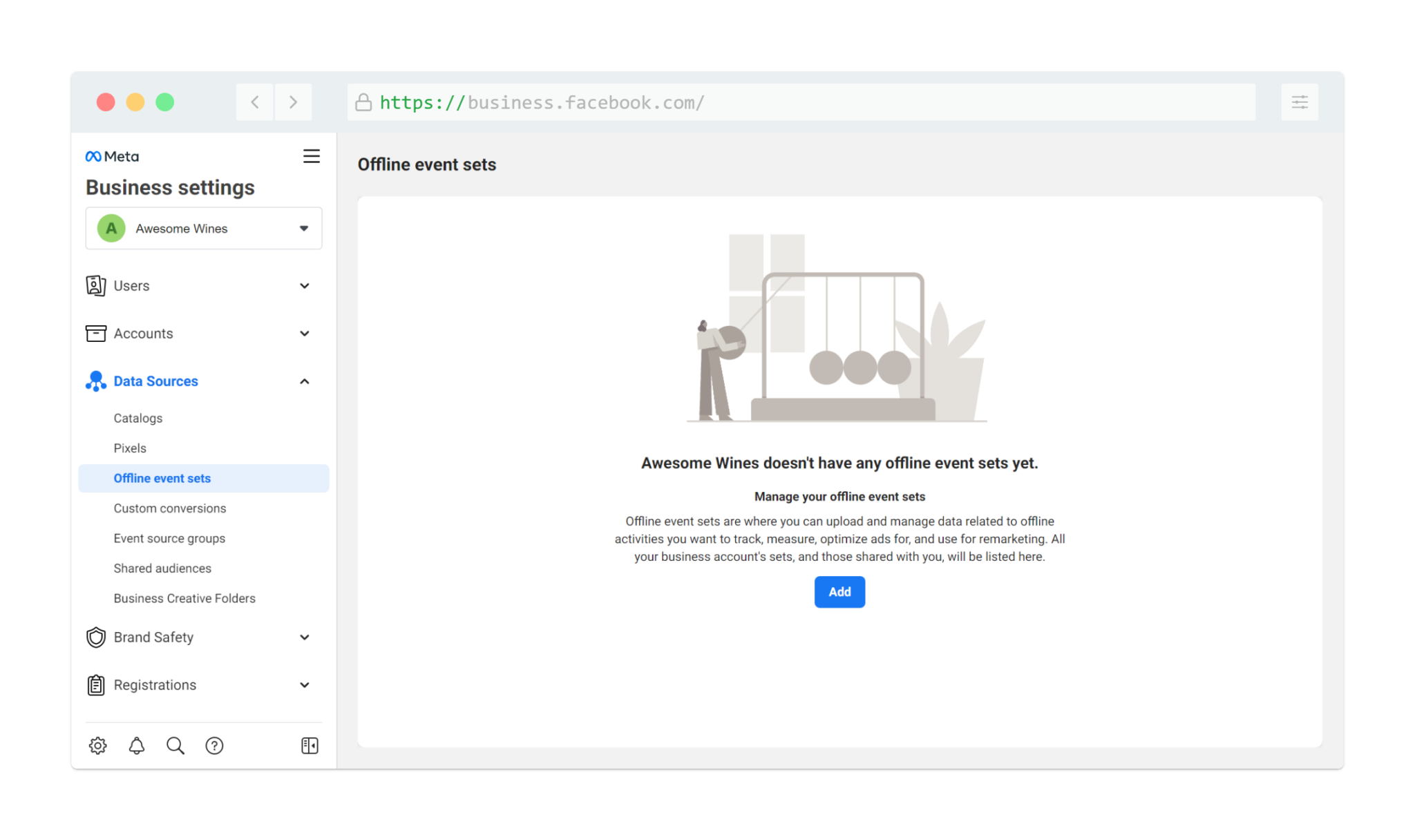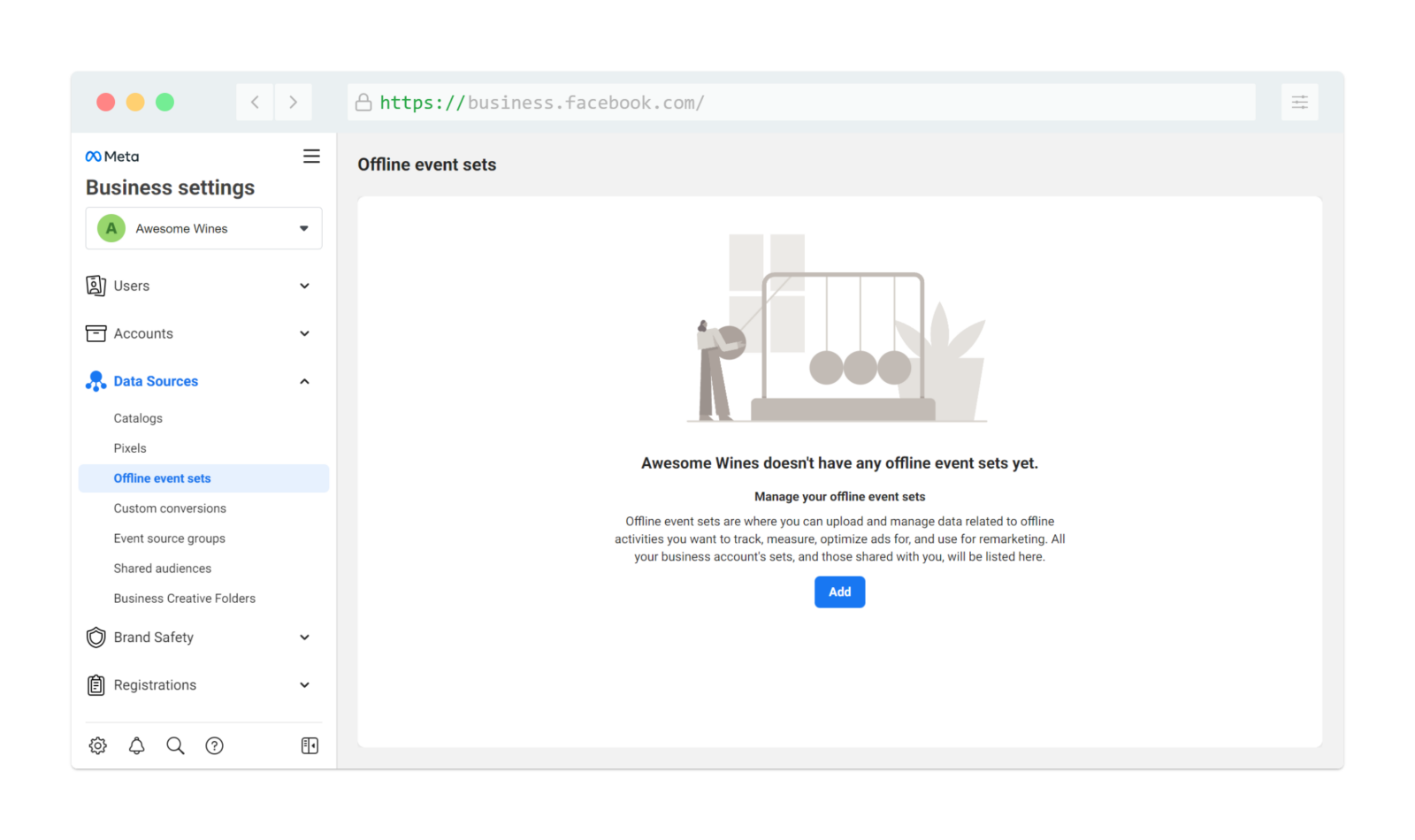 Connect your ad account to the newly created event set by pressing the "Assign Ad Accounts" button when viewing the offline event set, then selecting your ad account, enabling the auto tracking toggle, and hitting save.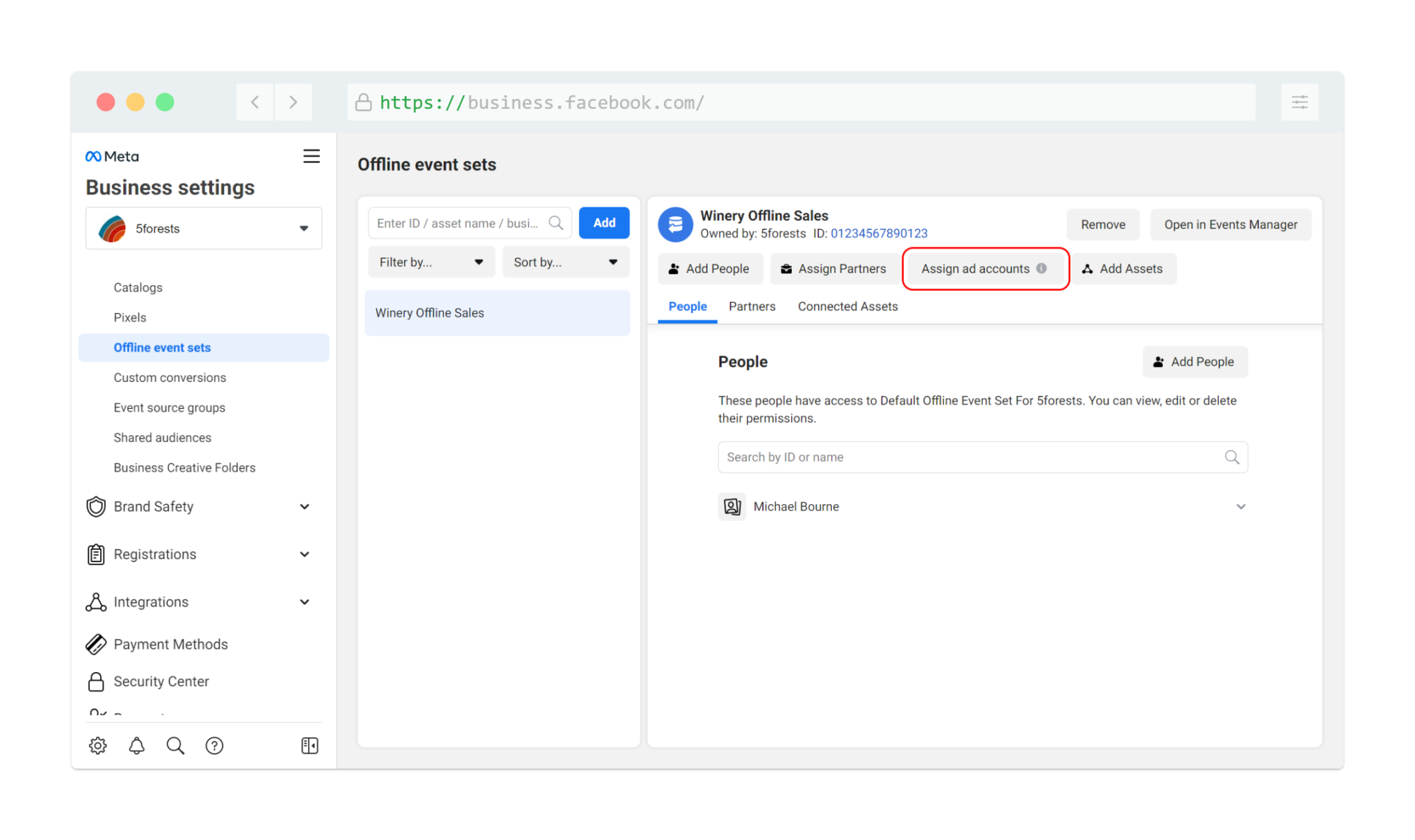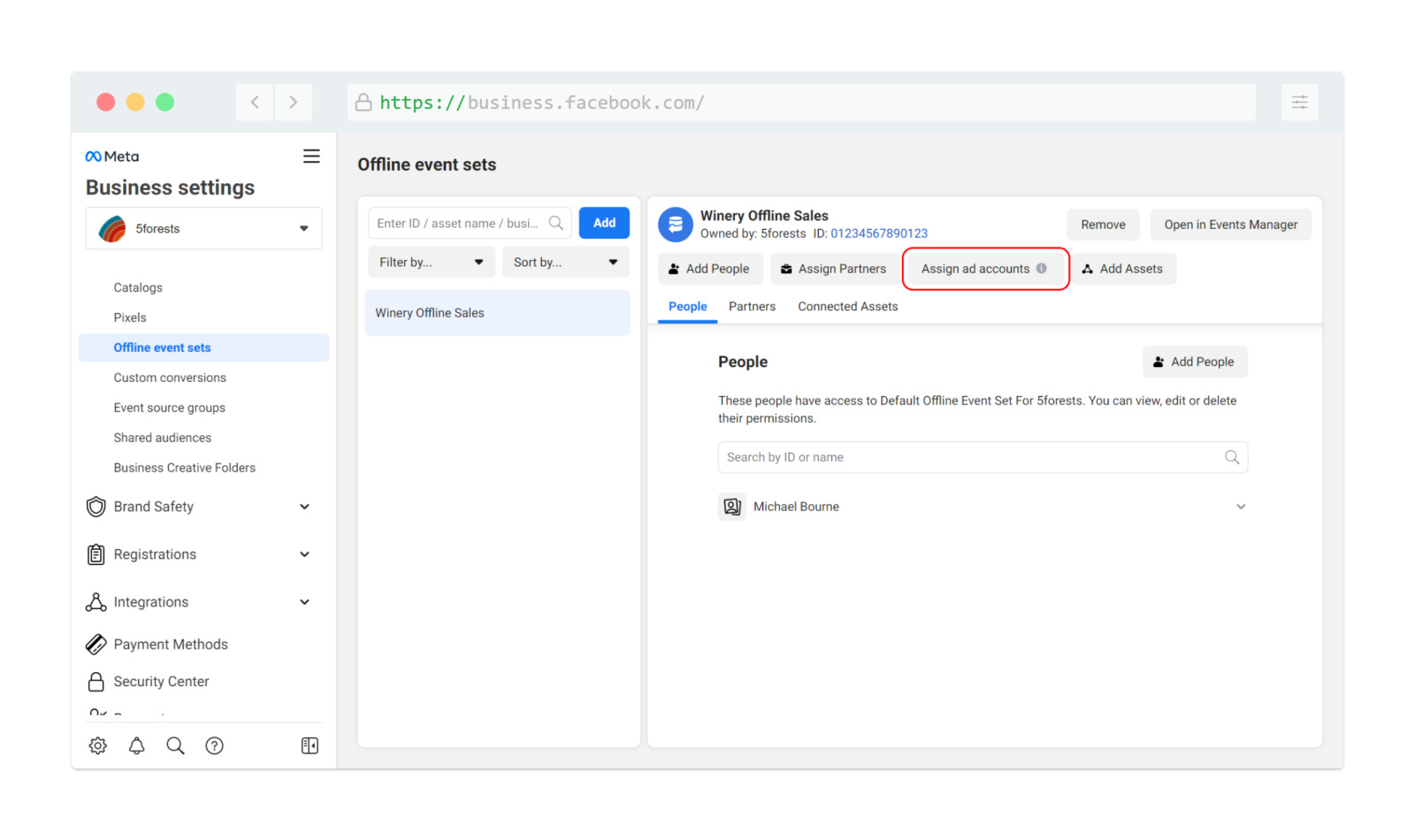 You should add users who might need access to it as well by pressing the "Add People" button and choosing the accounts who need access. Do this for yourself too, it wont be automatic.
At this point you should have a fully set up business manager account, an ad account with billing enabled, a Facebook pixel attached to that ad account, and an offline events set also attached to the ad account.
Write down your Pixel ID and your Offline Event set ID. You will need those 2 for the app installation.
Create a Facebook App
The next step is to create a Facebook app. To get started, first visit this URL:
https://developers.facebook.com/apps/
This will take you to the Facebook for developers site. Follow the steps to connect your account if required, and then click Create App.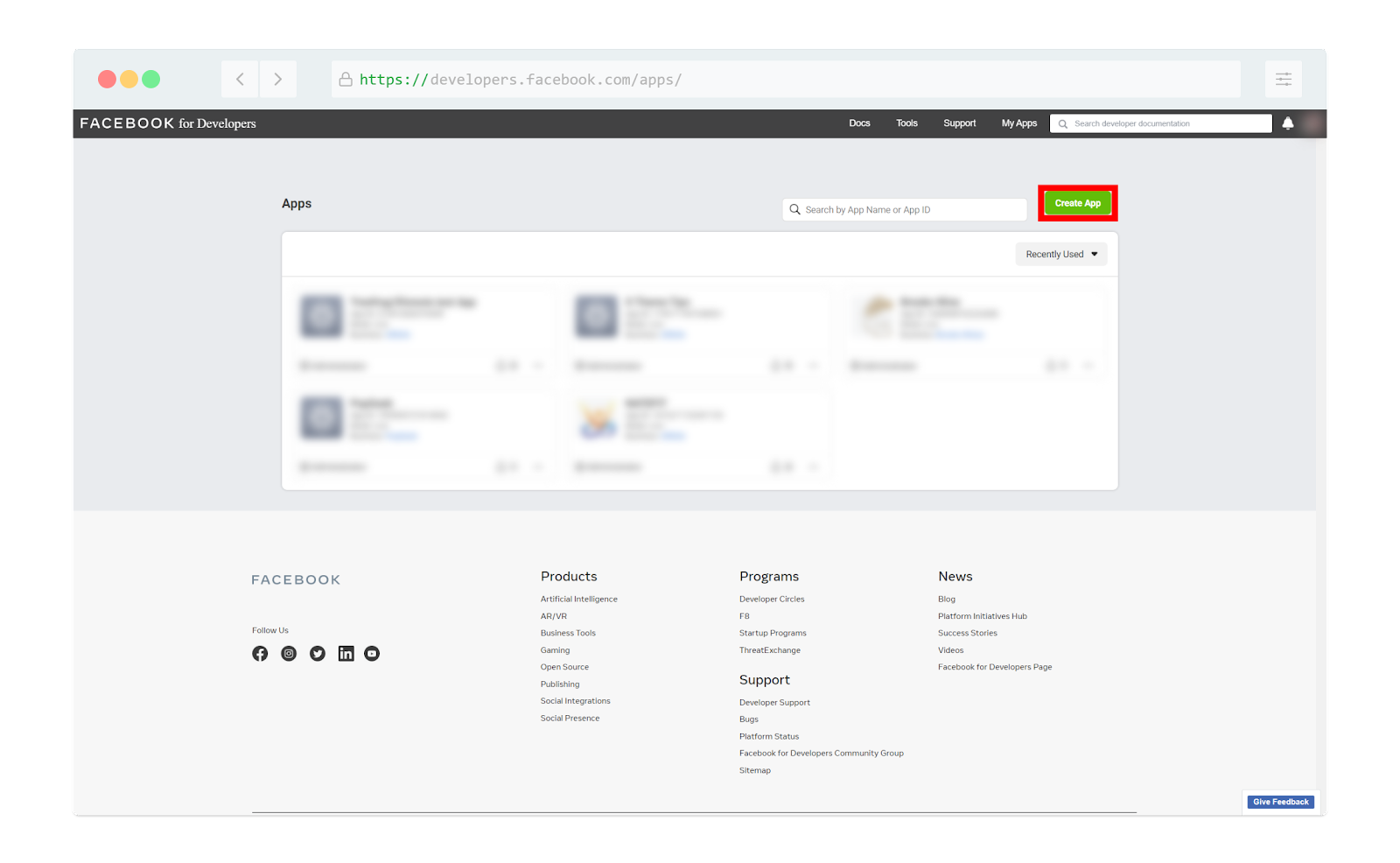 On the pop up, after clicking the create app button, select For Everything Else.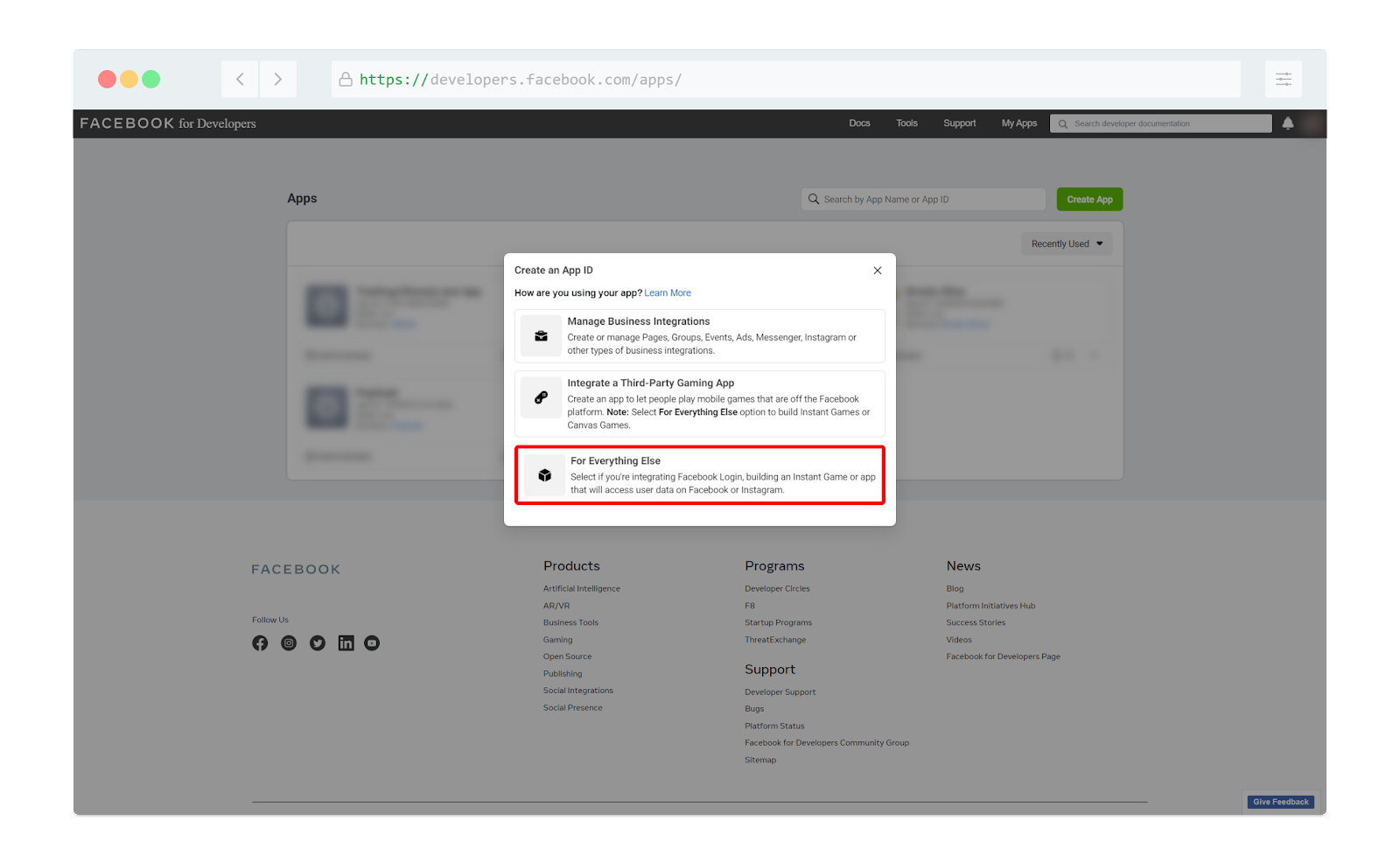 Enter a display name, (it doesn't matter what you enter in this field). Then enter a contact email. This should be an email address you check regularly. Select your business manager account. Click Create App ID when you've entered your information.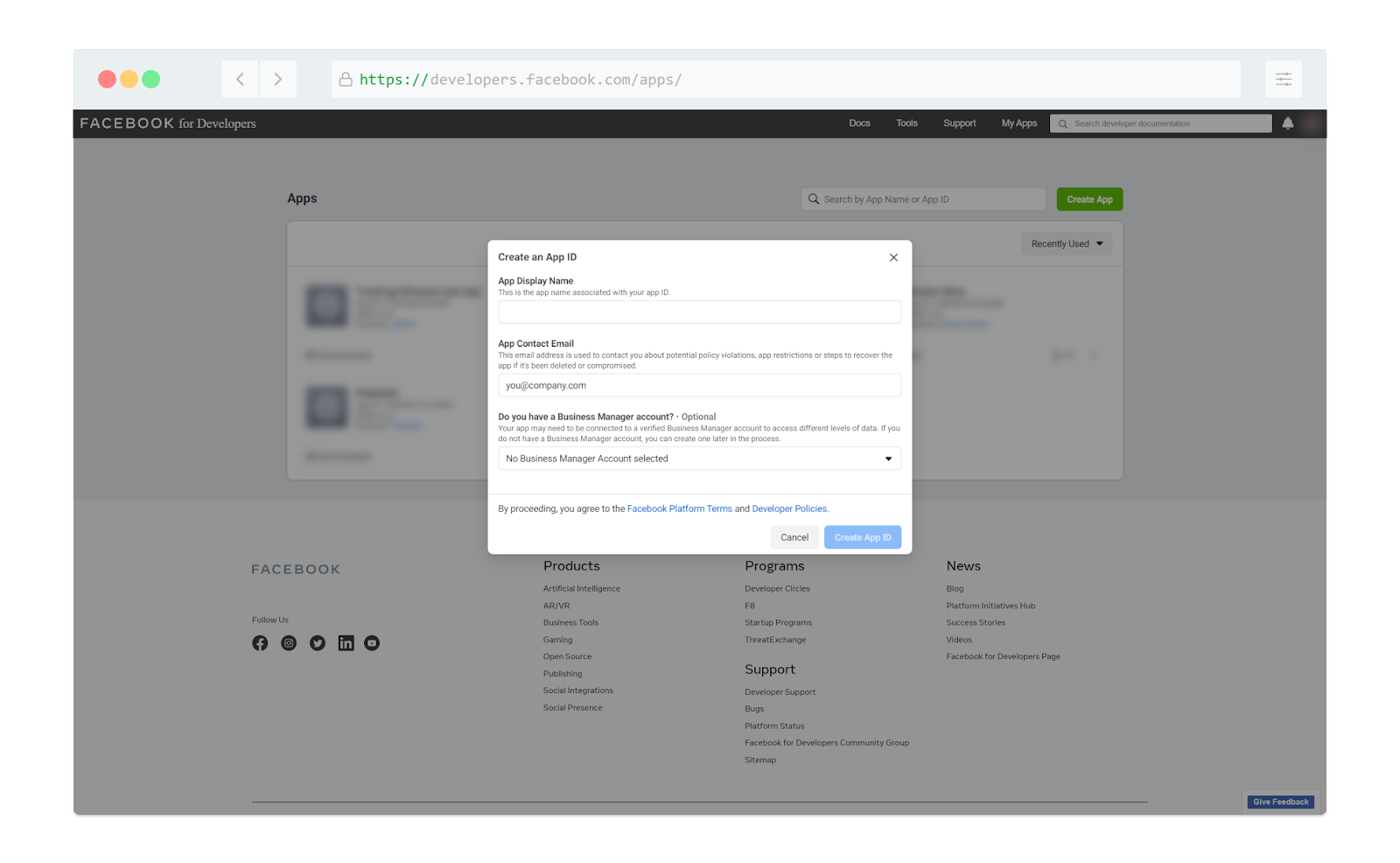 Scroll down and click Set Up under "Marketing API"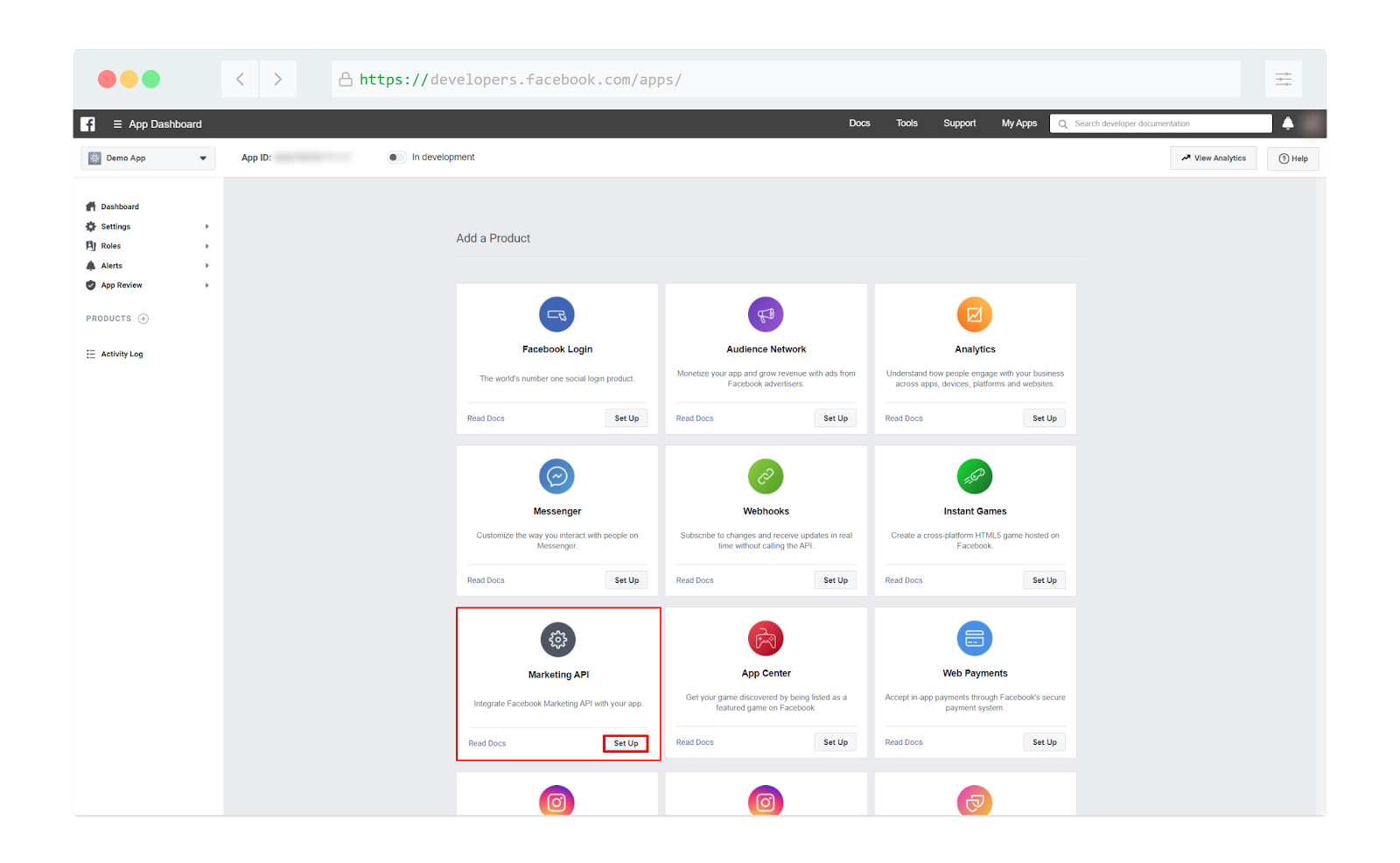 Next, click Settings > Basic in the left menu. In the app's basic settings, provide an email address and a link to your privacy policy URL. Set the app category to "Businesses and Pages".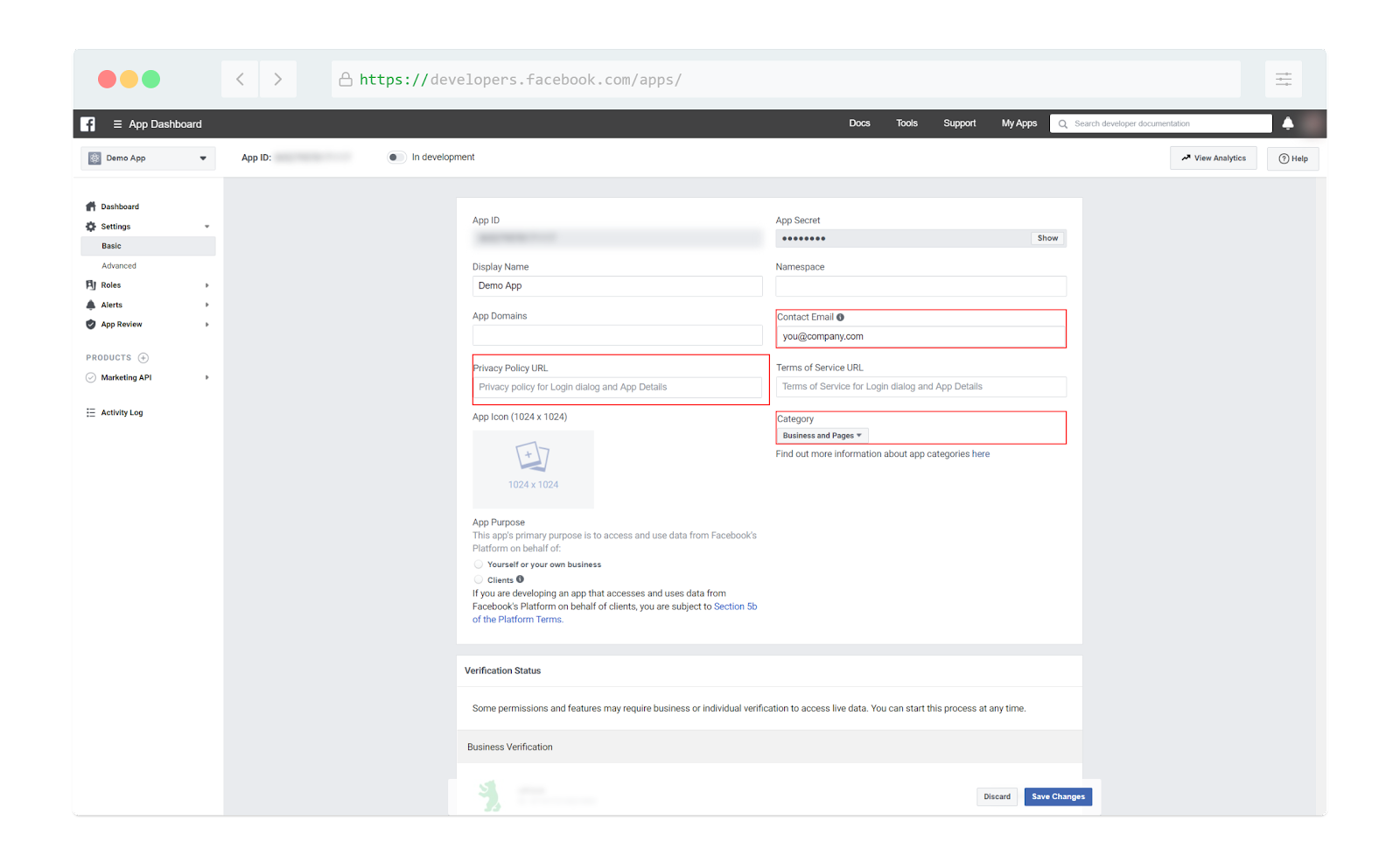 Scroll down and click "add platform" and select website, then type in your website URL.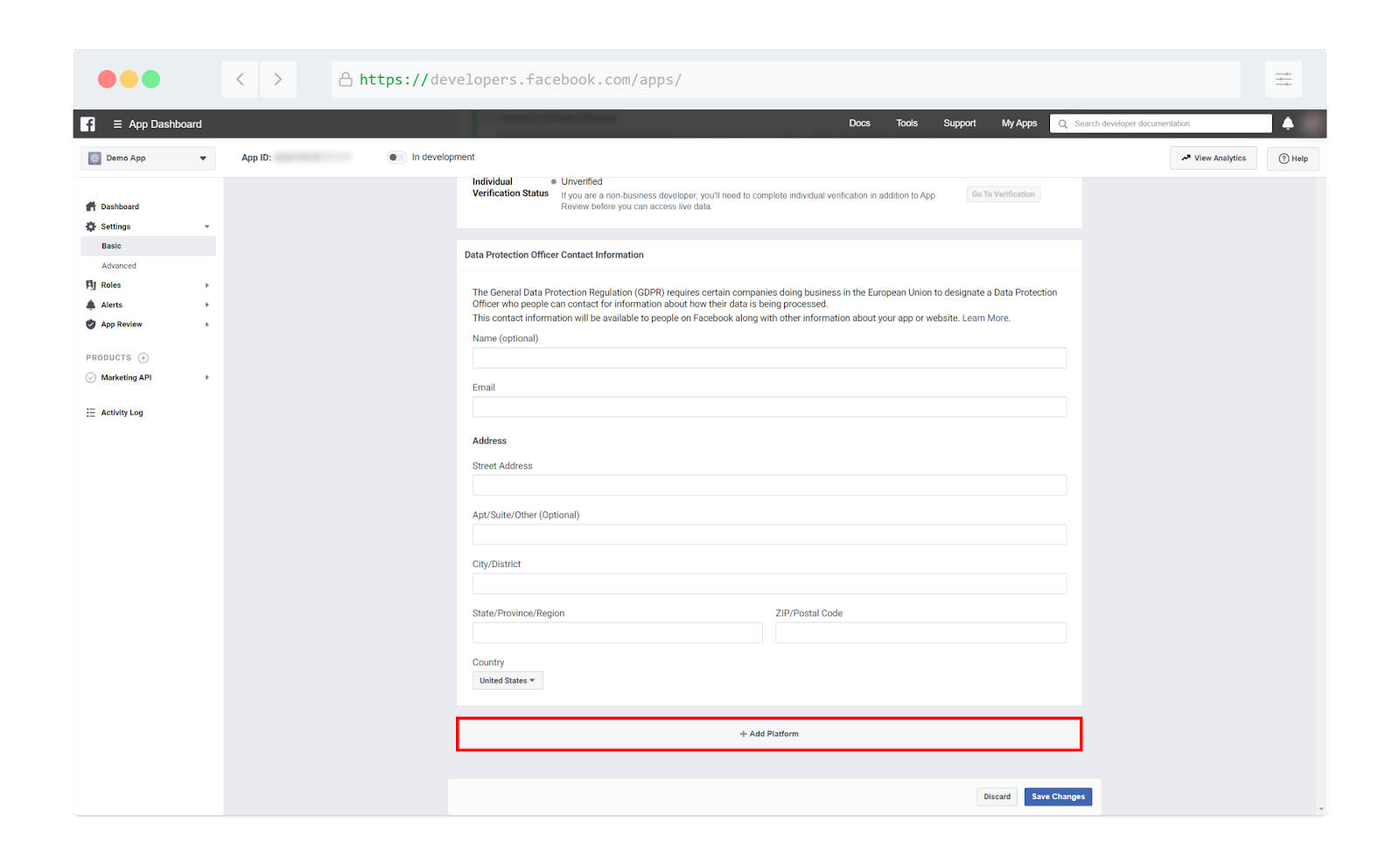 Create a System User and Access Token
The last thing needed for installation is a system user and token. So let's first create a system user and then generate a token.
Visit Business Manager > Business Settings.
Select System Users in the left menu.
Click the blue Add button in the center column.
Select Admin System User as the role for the system user. Make sure it's admin and not employee!
Click Add Assets on the newly created system user, and select your app, your ad account, your pixel, and your catalog (optional). Toggle the "manage" permissions option on for each asset. Click "Save Changes".
Select the system user and click Generate New Token. Choose "Permanent" for the lifespan if asked.
Select your app, and under scope, select ads_management if it's not already selected.
This generated token will be used for both your System User Access Token and your Pixel Access Token during the Commerce7 app setup.
We're nearly there! Next, read the Commerce7 setup instructions
Commerce7 App Setup
Log in to your Commerce7 admin panel. Select Apps & Extensions in the lower left navigation, click Facebook Conversion Tracking by 5forests and Treefrog Digital, and click Install.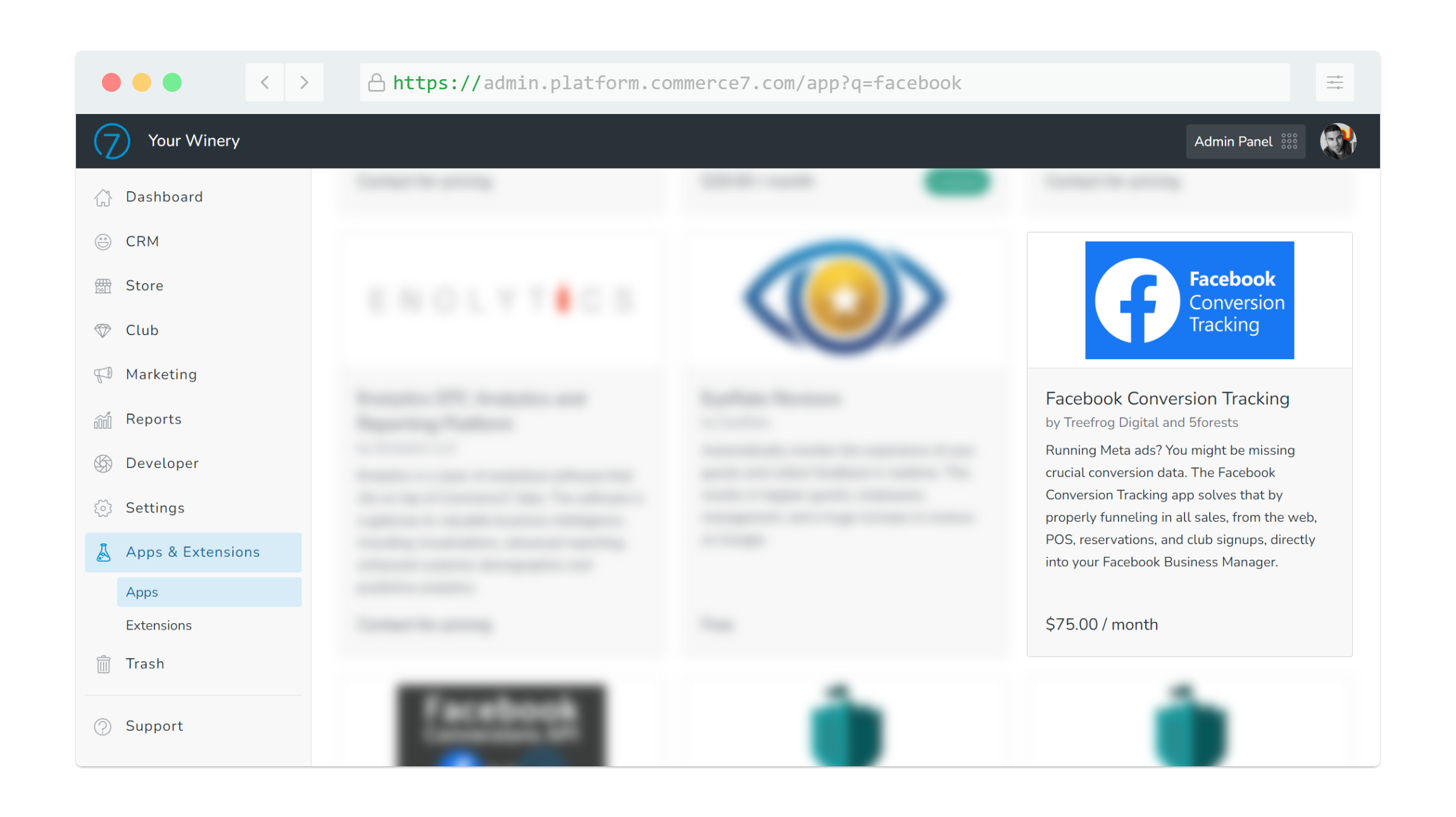 Now the easy part! The next step is to take the IDs and Tokens just collected:
If you have a Dataset:
Dataset ID
Dataset Access Token
If you have a Pixel and Offline Event Set:
Offline Event Set ID
Pixel ID
System User Access Token
Pixel Access Token (same as your System User Access Token)
Head over to the Marketing > Facebook menu, click general settings, paste those values in the proper fields and save the settings.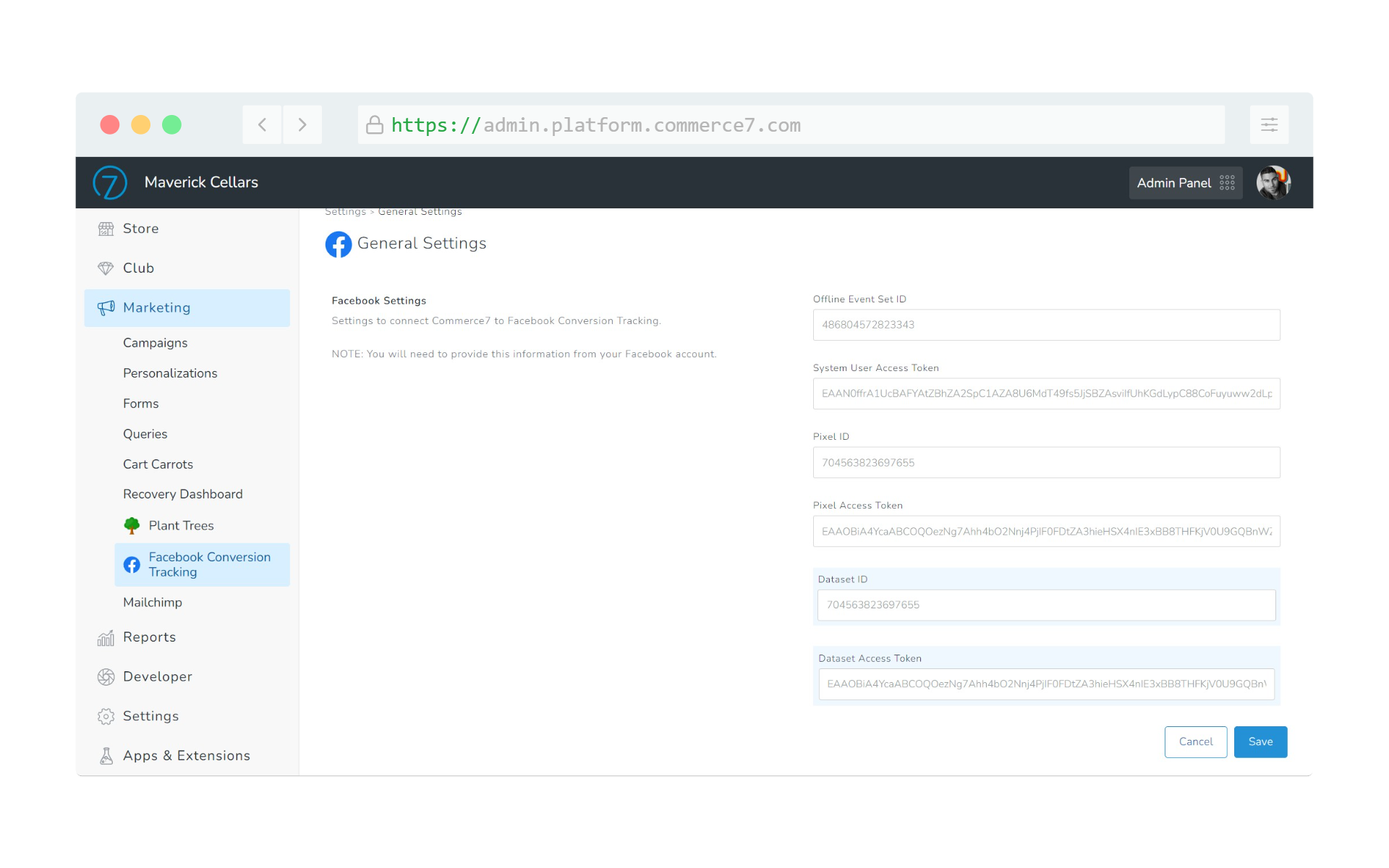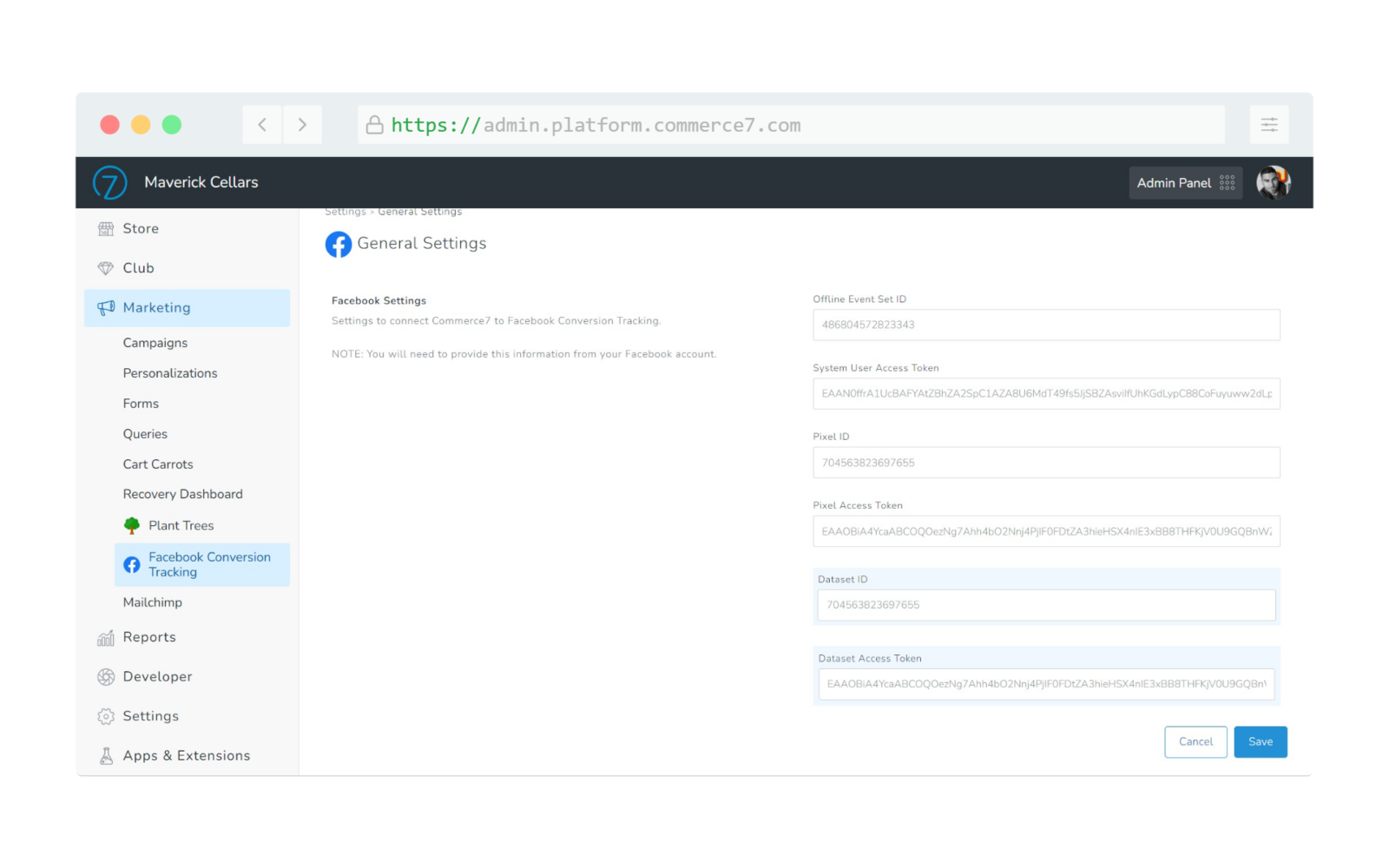 Leave the fields that do not apply to you blank.
Set up is now complete!
After Installation
Read our blog for some advanced ways to use the Facebook Conversion Tracking app!
If you are using the Facebook pixel (through GTM), purchases need to be deduplicated. If you opt in for our free GTM container for the Facebook pixel, this is already done for you. If you prefer to use your current setup, you will need to edit your purchase tag to include the order number as the unique EventID to help with deduplication. More info can be found here: https://developers.facebook.com/docs/marketing-api/conversions-api/deduplicate-pixel-and-server-events/
The app you created above requires a few minutes of maintenance yearly called a "Data Use Checkup". It is simply you reading their terms and checking a box saying you agree. Failure to do this yearly will result in lost data, so please pay attention to the admin notifications in your Business Manager account.
CCPA Compliance
For California wineries looking to be CCPA complaint, our newest app version adds a custom user meta field called "Facebook: Limited Data Use" with a true/false dropdown. Setting this dropdown to true on a customer will result in our app sending the proper Limited Data Use headers with the conversion info, in compliance with CCPA regulations. This is handy for your manual user opt out flows, or it can be automated via API with your own privacy integration. You can read more about Facebook's LDU system here: https://www.facebook.com/business/help/1151133471911882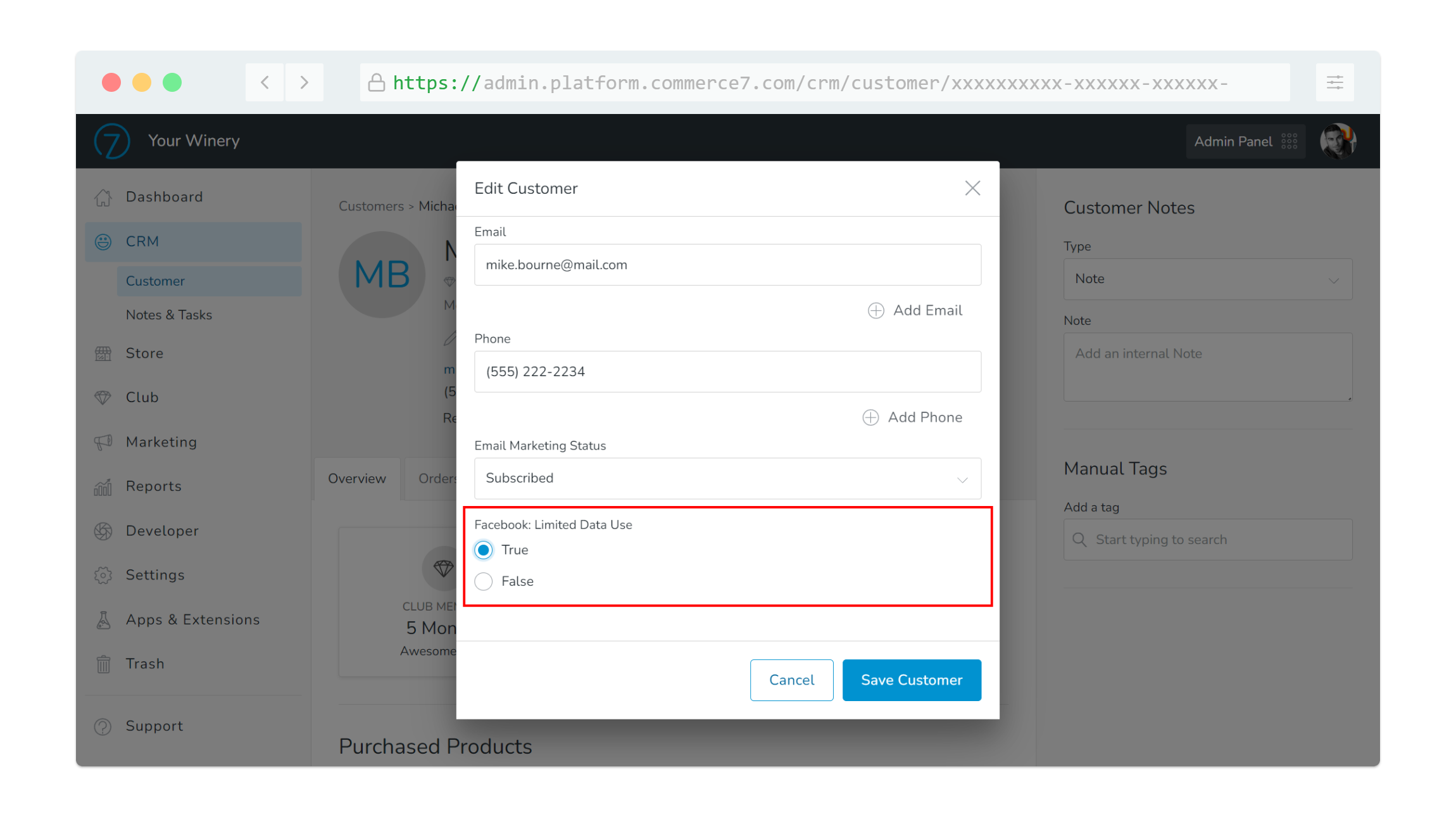 If you happened to install our app prior to this LDU field being created, or if you accidently removed it, you can create your own inside of Commerce7 by going to Developer > Meta Data on the C7 backend, then create a new custom meta data object with the code facebook-limited-data-use and the field type set to True/False. The code must be typed exactly as shown in order to work.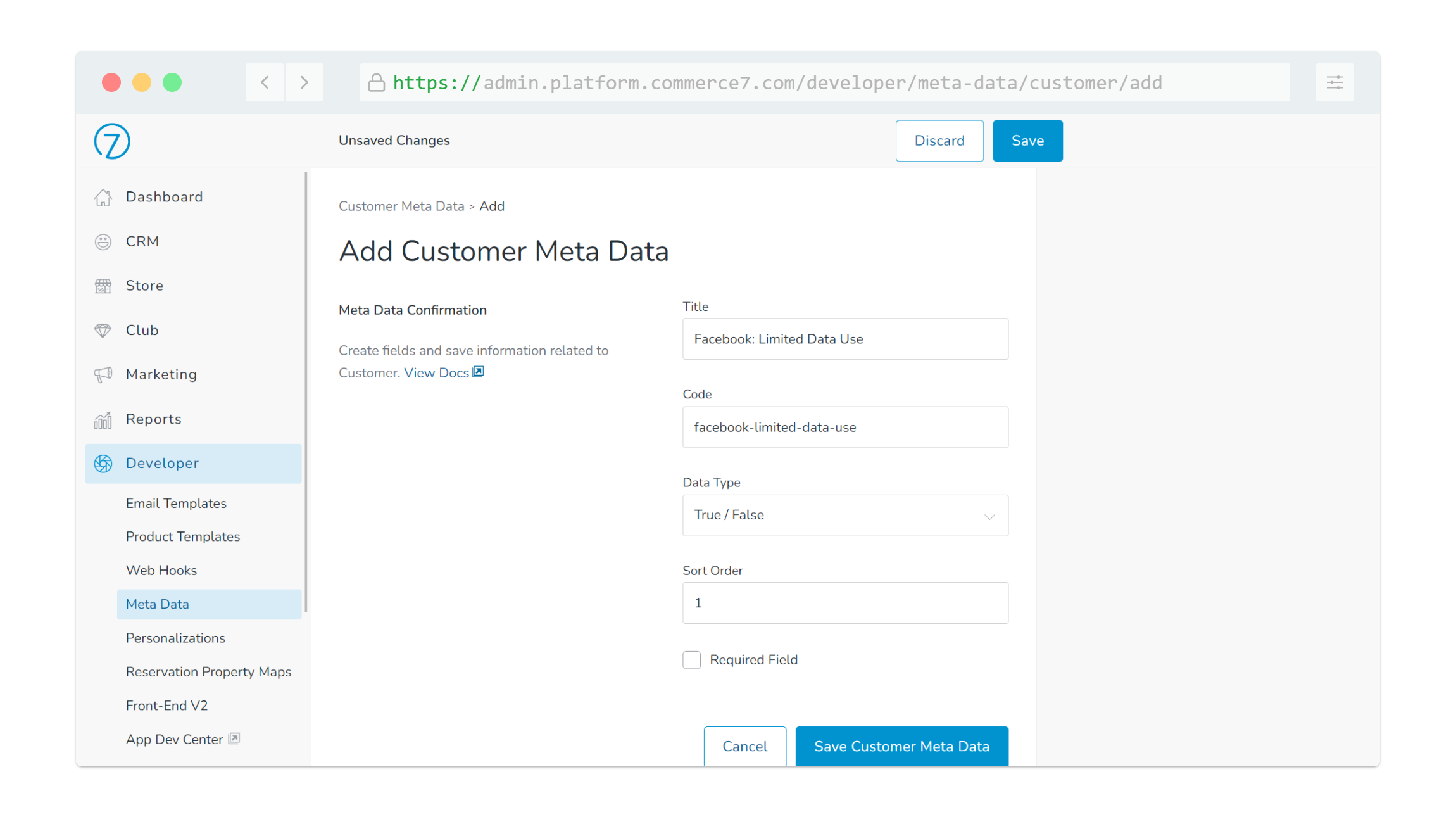 Advanced Support
Sometimes we may need to help wineries who run into technical issues with their setup in relation to this app. It's rare, but in those cases, we ask that wineries invite 5forests as a Partner in Facebook Business Manager. Our partner number is 360746004725557. After inviting, you will need to assign us all above assets, and give us manage permissions. This includes your Dataset, Pixel (if applicable), Offline Event Set (if applicable), Facebook App (if applicable), Catalog (optional), and your Ad Account.
Looking for a creative agency with a proven record of success?